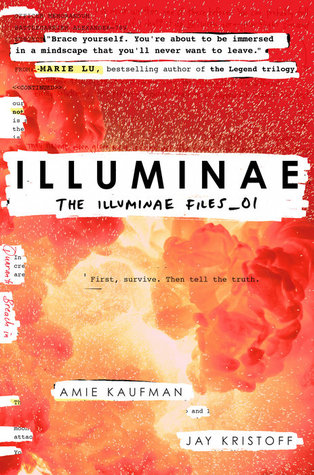 Illuminae by Jay Kristoff & Amie Kaufman
608 Pages
Release Date: Octobber 12th, 2015
Publisher: Knopf Books for Young Readers
Source: Publisher via Netgalley
Genre: Sci-fi
Rating:
4.5-5 STARS
Goodreads Summary:
This morning, Kady thought breaking up with Ezra was the hardest thing she'd have to do.
This afternoon, her planet was invaded.
The year is 2575, and two rival megacorporations are at war over a planet that's little more than an ice-covered speck at the edge of the universe. Too bad nobody thought to warn the people living on it. With enemy fire raining down on them, Kady and Ezra—who are barely even talking to each other—are forced to fight their way onto an evacuating fleet, with an enemy warship in hot pursuit.
But their problems are just getting started. A deadly plague has broken out and is mutating, with terrifying results; the fleet's AI, which should be protecting them, may actually be their enemy; and nobody in charge will say what's really going on. As Kady hacks into a tangled web of data to find the truth, it's clear only one person can help her bring it all to light: the ex-boyfriend she swore she'd never speak to again.
Told through a fascinating dossier of hacked documents—including emails, schematics, military files, IMs, medical reports, interviews, and more—Illuminae is the first book in a heart-stopping, high-octane trilogy about lives interrupted, the price of truth, and the courage of everyday heroes.
Riveting and mind-blowing, Illuminae was one of the best sci-fi books I've read in a long time.
The space setting only adds to the intensity and beautiful-ness of the plot.
Not only was the setting great, the plot and the way the story was told absolutely brilliant. The story hits off right away and then gradually slows it's pace and then picks up again. AIDAN the AI was also a unique addition to the story and I loved the way it was portrayed and written. It was a different perspective and a new way to look humans in an objective way.
It may look long but since it's written in techy/hacked government file forms including interviews, Internet chats, debriefing accounts, pictures, surveillance footage summaries, etc. it's actually much shorter than it looks. I love how everything is compiled but still able to give a clear flow of what happens to Ezra and Kady and why it's written in such a format. I love how their story intertwines (plot wise and format wise). Illuminae truly blurs the line between the truth and lies.
The characters are also what made the plot work so well. What makes Kady and Ezra's story work is the fact that they have a past before everything happened. Both are separated for a good amount of the book but we see the bond they do have. And not only their romantic relationship but just how well they complement each other and can work together so well. Kady is smart, efficient, and all in all curious rebel. Ezra is loyal, funny, ridiculously tall, and has a big soft heart. Both are crazy in love with each other (obviously) and complex individuals that are so easy to like and root for till the end. I ship them ;D