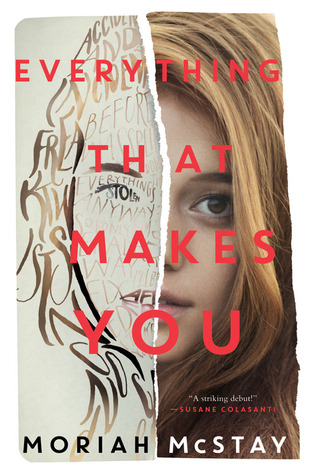 Everything That Makes You by Moriah McStay
Release Date: March 17th, 2015
Publisher: Katherine Tegen Books
Goodreads Summary:
One girl. Two stories. Meet Fiona Doyle. The thick ridges of scar tissue on her face are from an accident twelve years ago. Fiona has notebooks full of songs she's written about her frustrations, her dreams, and about her massive crush on beautiful uber-jock Trent McKinnon. If she can't even find the courage to look Trent straight in his beautiful blue eyes, she sure isn't brave enough to play or sing any of her songs in public. But something's changing in Fiona. She can't be defined by her scars anymore.
And what if there hadn't been an accident? Meet Fi Doyle. Fi is the top-rated female high school lacrosse player in the state, heading straight to Northwestern on a full ride. She's got more important things to deal with than her best friend Trent McKinnon, who's been different ever since the kiss. When her luck goes south, even lacrosse can't define her anymore. When you've always been the best at something, one dumb move can screw everything up. Can Fi fight back?
Hasn't everyone wondered what if? In this daring debut novel, Moriah McStay gives us the rare opportunity to see what might have happened if things were different. Maybe luck determines our paths. But maybe it's who we are that determines our luck.
~TOP 5-10 QUOTES~
I chose some quotes from some of my favorite books (and one poem.) There's no theme really--just some great lines that give me shivers whenever I read them.
(1) My favorite book of all time has to be
Pride and Prejudice
by Jane Austen. I've included her first line, which is old-fashioned, but sets up the book so beautifully.
It is a truth universally acknowledged, that a single man in possession of a good fortune, must be in want of a wife.
(2) This quotes serves as the epigraph in EVERYTHING THAT MAKES YOU. It's from
For Whom the Bell Tolls
by Ernest Hemingway. I just love this line.
There's no one thing that's true. It's all true.
(3) I love poetry, and one of my forever-favorite poets is ee cummings. This is a line from the poem "somewhere i have never travelled."
Nothing which we are to perceive in this world equals
the power of your intense fragility: whose texture
compels me with the colour of its countries,
rendering death and forever with each breathing
(4) Laurie Halse Anderson's
Speak
was one of the first YA books I ever read, as an adult. I read it as I was beginning to write myself, so the book holds an important place for me in my journey as an author. It was hard to select one quote!
When people don't express themselves, they die one piece at a time.
(5) Hilary Smith's
Wild Awake
is a YA novel that doesn't get talked about enough. It's such a lovely, sad, hilarious, bright and wild book. The writing is stunning. Here's a taste of what I mean:
There's a reason people get drunk after funerals, and I suddenly know what it is: the flip side of sadness is a dark, devouring joy, a life that demands to be fed
.
(6) Maggie Stiefavater has never disappointed me. I love everything she's written, but
The Scorpio Races
is my favorite. This quote is a perfect summary of the book--not just the overall plot, but the concise and chilling mood of the novel.
It is the first day of November and so, today, someone will die.
(7)
The Sky is Everywhere
by Jandy Nelson is another of my all-time YA faves. The first chapter ends with this line:
It's as if someone vacuumed up the horizon while we were looking the other way.
Moriah McStay grew up in Memphis, TN, where she acquired a come-and-go drawl and a lifelong love of cowboy boots and fried pickles. She attended Northwestern University and the University of Chicago. Two graduate degrees and seven jobs later, she finally figured out what she wants to be when she grows up.
EVERYTHING THAT MAKES YOU is her first novel, and she's probably at home right now working on another one.
Signed copy of Everything That Makes You + some swag
(US ONLY)