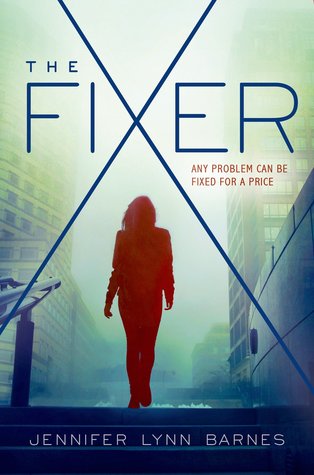 The Fixer by Jennifer Lynn Barnes
384 Pages
Release Date: July 7th, 2015
Publisher: Bloomsbury
Source: Publisher via Netgalley
Genre: Contemporary/Thriller
Rating:
4.5-5 STARS
Goodreads Summary:
This thriller YA is Scandal meets Veronica Mars.
Sixteen-year-old Tess Kendrick has spent her entire life on her grandfather's ranch. But when her estranged sister Ivy uproots her to D.C., Tess is thrown into a world that revolves around politics and power. She also starts at Hardwicke Academy, the D.C. school for the children of the rich and powerful, where she unwittingly becomes a fixer for the high school set, fixing teens' problems the way her sister fixes their parents' problems.
And when a conspiracy surfaces that involves the family member of one of Tess's classmates, love triangles and unbelievable family secrets come to light and life gets even more interesting—and complicated—for Tess.
Perfect for fans of Pretty Little Liars and Heist Society, readers will be clamoring for this compelling teen drama with a political twist.
I can't even begin to describe how much I love this book. There was no doubt I was going to love it, I mean come on it's a political thriller written by Jennifer Lynn Barnes. The Fixer was everything I ever wanted in a book. Private school, politics, family conflicts, mystery....? Yes please. This is also probably the first book that's pitched correctly. It really is a YA version of Scandal with hints of Veronica Mars (my favorite t.v show). I loved how easily Tess gets caught up in her sister's and her classmates' political world and problems. The way everything interconnected was just brilliant. All the characters played a specific role in the story and it turned out really well. To be honest, I'm not the biggest fan of politics but reading about it and rooting/figuring out the corruption and the key players behind things is just plain fun. I'm surprised there aren't more political thrillers because they make for good YA reads.
It was very easy to like and understand Tess and her feelings. It's funny how her classmates believe she'll live up to her family name (which is how great of a problem solver Ivy is) and how she just ends up getting herself into situations where she ends up helping out people that they really believe she has the same skill (which she does). She's curious and a natural observer and can easily get through a situation. Her actions and the way she fixes problems is admirable and I'm so looking forward to how things will go in book 2.
It was hard to like Ivy in the beginning. You see things from Tess's POV and if I was Tess I would probably make Ivy the "villain" in my life too. And while I didn't love her by the end, I accepted her. Ashton (the most amusing character) and Vivvie were two characters that really supported Tess and played the perfect best friends. Bodie, Ivy's bodygaurd/chauffer, was a perfect character to add to the mix especially with his brotherly-like attitude and banter. There wasn't much romance but I would like to think JLB hints to a potential love interest *coughs* Henry *coughs*.
The Fixer is absolutely perfect for Scandal lovers and anyone who wants to read a thriller. With a fun cast of characters, an intriguing glimpse into politics, and mysteries all around, I would recommend The Fixer to everyone :D Happy Readings!