Welcome to my stop on The Art of Lainey Blog Tour!
So honored and excited to a part of this!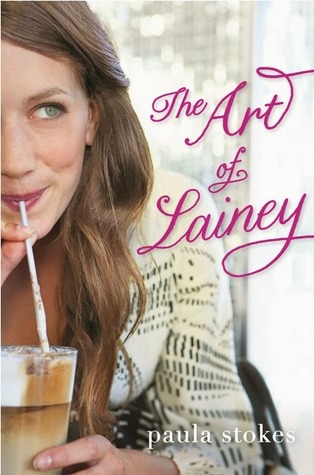 The Art of Lainey by Paula Stokes
Release Date: May 20th, 2014
Publisher: HarperTeen
Genre: Contemporary
Rating: 4 STARS
Goodreads Summary:
Soccer star Lainey Mitchell is gearing up to spend an epic summer with her amazing boyfriend, Jason, when he suddenly breaks up with her—no reasons, no warning, and in public no less! Lainey is more than crushed, but with help from her friend Bianca, she resolves to do whatever it takes to get Jason back.
And that's when the girls stumble across a copy of The Art of War. With just one glance, they're sure they can use the book to lure Jason back into Lainey's arms. So Lainey channels her inner warlord, recruiting spies to gather intel and persuading her coworker Micah to pose as her new boyfriend to make Jason jealous. After a few "dates", it looks like her plan is going to work! But now her relationship with Micah is starting to feel like more than just a game.
What's a girl to do when what she wants is totally different from what she needs? How do you figure out the person you're meant to be with if you're still figuring out the person you're meant to be?
Full of fun and cuteness, The Art of Lainey is the perfect spring/summer read! I will admit I was a bit hesitant to continue after seeing Lainey's personality in the first few chapters but luckily we see the way Lainey's character develops as she comes upon new realizations and new experiences. One of my favorite aspects of this book was the way it tied to The Art of War. It didn't just flakily mentioned it but it was a major theme/factor that really helped to develop Lainey's character. Plus using a book on war strategies to win back your ex? Uhhhh brilliant!!!
Lainey was a character that was easy to have mix feelings about. I for one loved seeing the way her thinking and feelings changed as she started to "date" Micah. It was also cool seeing her being into soccer and not just revolving around Jason and getting back together with him. I for one find it hard to think that a person would go that far for a guy. But again that's just me and not being able to relate. No matter her flaws, its what makes her Lainey.
Micah. Oh Micah *has dazed look* Love the way his character contrasts Lainey's. They both really have judgmental opinions about one another but as the story progresses they become close friends and just click well together by the end. Also he's an amazing older brother and JUST SWOOOOON!! Micah's little sister definitely made me giggle and I'm so glad she was added to the story.
Character flaws also made it much more realistic and easier to connect to them. Filled with witty banter, unexpected feelings, and a summer to remember, The Art of Lainey is the book for all you contemporary fans. Happy Readings!
AUTHOR BIO:
Paula Stokes is half writer, half RN, and totally thrilled to be part of the world of YA literature. She started
out writing historical fiction under a pen name and is now branching out into other YA genres.
When she's not working (rare), she's kayaking, hiking, reading, or seeking out new adventures in faraway lands. She's petted tigers, snuggled snakes, snorkeled with stingrays, and once enjoyed the suction-cuppy feel of a baby elephant's trunk as it ate peanuts from her palm. Her future goals include diving with Great White sharks, learning Krav Maga, and writing a whole slew of novels, not necessarily in that order.