As some of you may have heard, Caitlyn and I got the chance to go
to the Ruin and Rising Launch Party which was just full of awesomeness and funnnnnn!!!
The decoration for this place was the best thing ever. JUST LOOK AT IT!
We looked around for a bit and saw the other awesome stations like the Photobooth, Nail Salon, and the beverages. There was also catering with food that I want to say was from the book but I'm not entirely sure.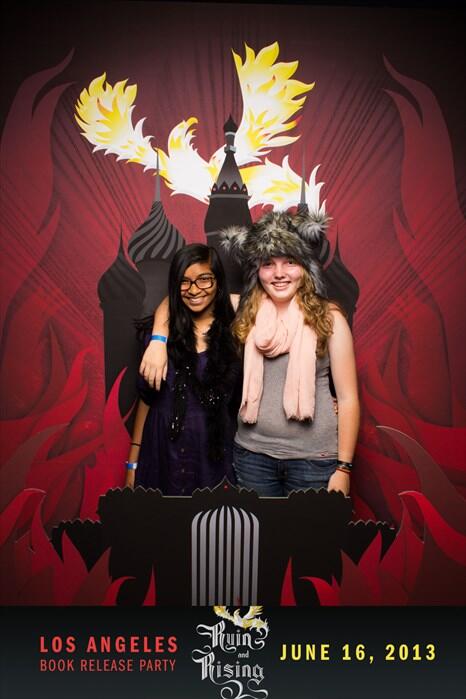 (Left to Right: Me and Caitlyn)
On the left is the tote bag we got and the right is the straw/stick thing we got in our beverages.
Leigh started the presentation in which she read from her first journal (SO FUNNY) and portrayed why YA is a genre everyone reads through a clip from The Labyrinth. There were also some local authors like
Marie Lu and Debra Driza and others who I fail at recognizing (SORRY). She also had a raffle where someone won $100 spa thing, $100 certificate for Hebel Design, and a Ruin and Rising box filled with swag and books.
Once the signing started, we went up to explore upstairs and saw beautiful art work and it was full of awesomeness that convinced us to go back to The Last Book Store sooooon.
What they had upstairs:
WHY YES THAT IS A TUNNEL MADE OF BOOKS!
Upstairs view of the signing:
All in all though, I had a blast and was so glad I got to attend it!
Did any of you guys attend too?