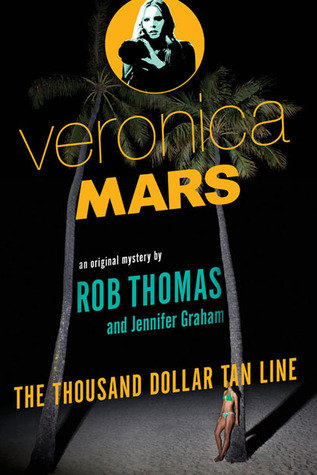 The Thousand-Dollar Tan Line by Rob Thomas and Jennifer Graham
324 Pages
Release Date: March 25th, 2014
Publisher: Vintage
Genre: Mystery/Contemporary
Rating: 4.5 STARS
Goodreads Summary:
From Rob Thomas, the creator of the television series and movie phenomenon Veronica Mars, comes the first book in a thrilling mystery series that picks up where the feature film left off.
Ten years after graduating from high school in Neptune, California, Veronica Mars is back in the land of sun, sand, crime, and corruption. She's traded in her law degree for her old private investigating license, struggling to keep Mars Investigations afloat on the scant cash earned by catching cheating spouses until she can score her first big case.
Now it's spring break, and college students descend on Neptune, transforming the beaches and boardwalks into a frenzied, week-long rave. When a girl disappears from a party, Veronica is called in to investigate. But this is no simple missing person's case; the house the girl vanished from belongs to a man with serious criminal ties, and soon Veronica is plunged into a dangerous underworld of drugs and organized crime. And when a major break in the investigation has a shocking connection to Veronica's past, the case hits closer to home than she ever imagined.
In Veronica Mars, Rob Thomas has created a groundbreaking female detective who's part Phillip Marlowe, part Nancy Drew, and all snark. With its sharp plot and clever twists, The Thousand-Dollar Tan Line will keep you guessing until the very last page.
MY THOUGHTS:
My heart and brain exploded while reading this book. As a fellow Marshmallow, having one of you favorite tv shows then movie to a book is prettttty awesome! As some of you guys know I've been a HUGE fan of Kristen Bell and Veronica Mars for quite some time now. (Check out the post in which I fangirl over the Veronica Mars movie trailer
HERE
) Rob Thomas and Jennifer Graham did a fantastic job with this super original mystery. The plot was brilliant and I loved the twists in the book! What I loved about the story line was that instead of mainly focusing on who the perpetrator was, what kept you really guessing was what in the world happened to the girls. It was cool to see some characters like Mac, Wallace, and her Dad as a constant. I for one was surprised when we see a certain character brought back to Neptune and just seeing how the case(s) personally affected Veronica through that.
Veronica was as great as ever and definitely maintained the voice she did through the series and movie. This story however, certainly added to her character especially once her past catches up to her and just blows her away. I think having Veronica as a book character helped to show more emotion and thoughts we wouldn't have seen as clear on screen. One thing that did change comparably to the show was her relationship with her dad. As great as their relationship is, her returning back to Neptune really hit Mr.Mars more so than anyone really expected.
What I really did miss was how Logan, Weevil, and Dick weren't there in many scenes as much as I would have liked. Logan I get but at the same will always miss especially with the chemistry he and Veronica have. It was cute seeing them remain in contact even though he's in the Navy and rocking his uniform. But it would have been nice to have Dick in few more scenes and Weevil especially was a character that could have definitely been mentioned more and have a somewhat bigger role in the book.
With so many references to Veronica Mars' high school years, I would really only recommend this to all Marshmallows and anyone who loved the show and movie. I would stop anyone else from reading it because to honestly get the best experience out of reading this book is to have watched the series and movie. Trust me on that. Happy Readings!