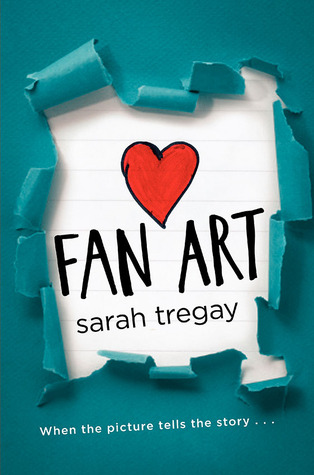 Fan Art by Sarah Tregay
368 Pages
Release Date: June 17th, 2014
Publisher: Katherine Tegen Books
Genre: Contemporary
Source: Publisher via Edelweiss
Rating: 3 STARS
Goodreads Summary:
When the picture tells the story…
Senior year is almost over, and Jamie Peterson has a big problem. Not college—that's all set. Not prom—he'll find a date somehow. No, it's the worst problem of all: he's fallen for his best friend.
As much as Jamie tries to keep it under wraps, everyone seems to know where his affections lie, and the giggling girls in art class are determined to help Jamie get together with Mason. But Jamie isn't sure if that's what he wants—because as much as Jamie would like to come clean to Mason, what if the truth ruins everything? What if there are no more road trips, taco dinners, or movie nights? Does he dare risk a childhood friendship for romance?
This book is about what happens when a picture reveals what we can't say, when art is truer than life, and how falling in love is easy, except when it's not. Fan Art explores the joys and pains of friendship, of pressing boundaries, and how facing our worst fears can sometimes lead us to what we want most.
Cute and just adorable, Fan Art by Sarah Tregay takes a much more light and contemporary approach to Glbt books (or at least more so than what I've read). After looking at this cover, I just knew I was going to read it even if I wasn't a huge fan of the synopsis (even though I totally was). Anyways, I loved the way Sarah Tregay wrote this story and since it wasn't the type of book I usually read, I loved how easy it was for me to get into the book and fall for the characters.
And let me tell you guys, Jamie is A-DOR-A-BLE. His thoughts and just his actions about Mason are just so nice and GAH. I did love seeing how hard it was for him and the way he struggled with telling Mason but could easily tell his mom. There were times where I got frustrated a bit by Jamie and stuff he does but it all works out in the end. OH and the "I love you" that the guys always say at their school was a pretty cool factor and I love how it was integrated onto the story-line itself.
Also the girls in his art class...? Well I think if I was part of the story I would totally be one of them. I think a lot of girls (or at least my friends) would have the same reaction that they did finding ways to get both of them together and just shipping them altogether. It was also interesting the way they were added and how some like Eden merged into a main character that helped develop Jamie's character more.
Definitely a lighthearted story for contemporary readers! I wished we saw more of Mason and their relationship but it was a cute read nonetheless. Happy Readings!