To celebrate

Evolution's release, the first two books in the series — Extraction

and

Rebellion – are on sale for only $2.99 each for all e-book formats! This sale will only last for a limited time, so snatch up your copy now! And read on to find out how to win prizes by spreading the word.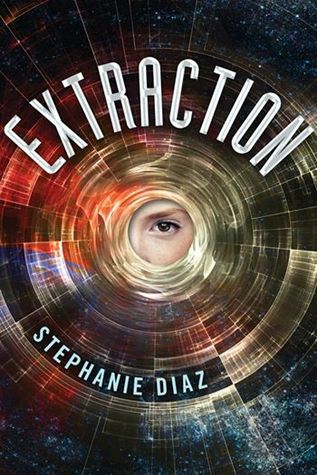 Extraction by Stephanie Diaz
Release Date: July 22nd, 2014
Publisher: St. Martin's Griffin
Goodreads Summary:
"Welcome to Extraction testing."
Clementine has spent her whole life preparing for her sixteenth birthday, when she'll be tested for Extraction in the hopes of being sent from the planet Kiel's toxic Surface to the much safer Core, where people live without fear or starvation. When she proves promising enough to be "Extracted," she must leave without Logan, the boy she loves. Torn apart from her only sense of family, Clem promises to come back and save him from brutal Surface life.
What she finds initially in the Core is a utopia compared to the Surface—it's free of hard labor, gun-wielding officials, and the moon's lethal acid. But life is anything but safe, and Clementine learns that the planet's leaders are planning to exterminate Surface dwellers—and that means Logan, too.
Trapped by the steel walls of the underground and the lies that keep her safe, Clementine must find a way to escape and rescue Logan and the rest of the planet. But the planet leaders don't want her running—they want her subdued.
With intense action scenes and a cast of unforgettable characters, Extraction is a page-turning, gripping read, sure to entertain lovers of Hunger Games and Ender's Game and leave them breathless for more.
Buy Extraction for only $2.99:
Rebellion by Stephanie Diaz
Release Date: February 15th, 2015
Publisher: St. Martin's Griffin
Goodreads Summary:
The uprising has begun.
It's been seven days since Clementine and Logan, along with their allies, retreated into hiding on the Surface. The rebels may have won one battle against Commander Charlie, but the fight is far from finished. He has vowed to find a way to win—no matter the cost. Do the rebels have what it takes to defeat him...and put an end to this war?
As Clementine and Logan enter a desperate race against time to defeat Commander Charlie—and attempt to weaken his power within his own ranks—they find themselves in a terrifying endgame that pits them against a brutal enemy, and each other. With every step, Clementine draws closer to losing Logan...and losing control of herself.
Continuing with the mesmerizing saga that started with Extraction, Stephanie Diaz blends science fiction, epic romance, and heart-stopping adventure to create a world that no reader will soon forget.
Buy Rebellion for only $2.99:
Stephanie has launched a special giveaway to coincide with the e-book sale. Help spread the word about the sale on social media and you will be entered to win:
- (1) signed hardcover copy of

Evolution,
annotated with behind-the-scenes facts and series secrets
- (1) limited edition LEGO Clementine model
- (1) limited edition LEGO Logan model
This contest is

open internationally. How do you enter to win? There are several ways (Yes, you can earn more than one entry, but no more than 1 entry per option):
Post the Extraction series e-book sale picture (see above), link to the Instagram account @StephanieEDiaz, and
tag it #BookBargain and #YAReads.
Post the Extraction series e-book sale picture on this page,
link to either www.steph-diaz.blogspot.com or one of the books, and tag it #BookBargain.
The book sale will last for one month, but she will be selecting one winner for the giveaway on Monday, October 5th to receive the grand prize.