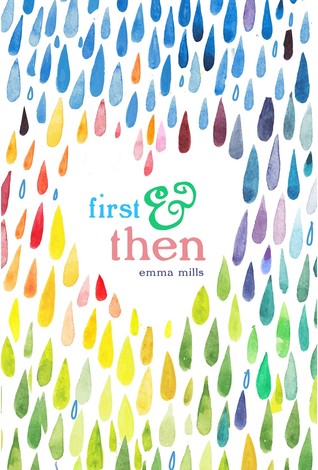 First & Then by Emma Mills
272 Pages
Release Date: October 13th, 2015
Publisher: Henry, Holt, and Co.
Source:
Teen Reader's Book Council
Genre: Contemporary
Rating:
4 STARS
Goodreads Summary:
Devon Tennyson wouldn't change a thing. She's happy watching Friday night games from the bleachers, silently crushing on best friend Cas, and blissfully ignoring the future after high school. But the universe has other plans. It delivers Devon's cousin Foster, an unrepentant social outlier with a surprising talent for football, and the obnoxiously superior and maddeningly attractive star running back, Ezra, right where she doesn't want them first into her P.E. class and then into every other aspect of her life.
Pride and Prejudice meets Friday Night Lights in this contemporary novel about falling in love with the unexpected boy, with a new brother, and with yourself.
Sweet and plain adorable, First & Then is a book that just makes you happy and smile. This book was more character driven than plot driven. What made this book different from other contemporary books was Foster, Devon's cousin. He was so matter of fact and blunt and just great. It was easy to see why Devon too fond of him though because of that. While it may not have been so plot driven, I loved that we saw things being questioned and just how we see things in the world. even if it's not right (I know this is really vague but it makes sense in the context of the book).
Devon was east to relate to. As a senior, I totally understood preoccupation with college and just not really being anything special that a college would want. We both don't play any sports or play any instruments. I do feel like that Devon just never tried or cared enough and when college apps loomed, she realized how little she's done. There were times where I felt like her character was a bit too bland/lacking personality wise. But other times I'm not sure if that was the point in order for her character grow as she has something new in her life that's not Cas. Cas was a big part of her life and just moving past him and into her own life was what this book was really about.
Foster and Ezra really helped her grow. Well more Foster than Ezra in my opinion but Ezra helped Foster deal with a lot of his issues. I loved their bromance (which totally took me by surprise) and how Ezra took Foster under his wing. Also I for some reason thought Ezra was a loud, egoistic guy but he's pretty much the exact opposite. He's calm, quiet, intense, and broody. Those qualities just make him even cuter when he's with Devon.
First & Then was full of revelations and a short and light read. I would recommend this to all contemporary lovers. I'll definitely be looking out for other books by Emma Mills. Happy Readings!