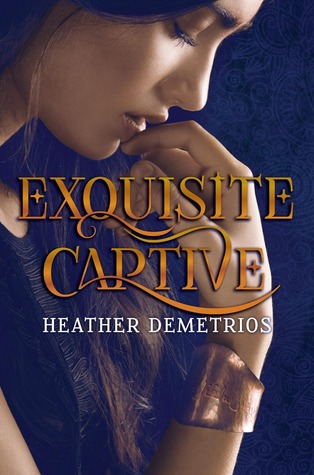 Exquisite Captive by Heather Demetrios
480 Pages
Release Date: Oct. 7th, 2014
Publisher: Balzer and Bray
Source: Publisher via Edelweiss
Genre: Fantasy/Paranormal
Rating: 3.5-4 STARS
Goodreads Summary:
Forced to obey her master.
Compelled to help her enemy.
Determined to free herself.
Nalia is a jinni of tremendous ancient power, the only survivor of a coup that killed nearly everyone she loved. Stuffed into a bottle and sold by a slave trader, she's now in hiding on the dark caravan, the lucrative jinni slave trade between Arjinna and Earth, where jinn are forced to grant wishes and obey their human masters' every command. She'd give almost anything to be free of the golden shackles that bind her to Malek, her handsome, cruel master, and his lavish Hollywood lifestyle.
Enter Raif, the enigmatic leader of Arjinna's revolution and Nalia's sworn enemy. He promises to free Nalia from her master so that she can return to her ravaged homeland and free her imprisoned brother—all for an unbearably high price. Nalia's not sure she can trust him, but Raif's her only hope of escape. With her enemies on the hunt, Earth has become more perilous than ever for Nalia. There's just one catch: for Raif's unbinding magic to work, Nalia must gain possession of her bottle…and convince the dangerously persuasive Malek that she truly loves him. Battling a dark past and harboring a terrible secret, Nalia soon realizes her freedom may come at a price too terrible to pay: but how far is she willing to go for it?
Inspired by Arabian Nights, EXQUISITE CAPTIVE brings to life a deliciously seductive world where a wish can be a curse and shadows are sometimes safer than the light.
Heather Demetrios' latest release captures a whole new world that hasn't been as thoroughly explored before. I love the whole concept of Arjinna and how it was in a different realm than on Earth but it would have been cool to get a more detailed explanation of the world itself. That fact really helped to set a better plot and premise for the novel since the jinnis have their own world with a totally different way of life. It was really easy to connect to the world of the jinnis since I've grown up in a culture where I do believe they're real (although differently from how they're described in this book) so jinn and shaitan are words that I've been accustomed to since I was a kid. It was interesting to see how the revolution correlated with Earth but I would have liked to see the idea of realms and portals more thoroughly explained.
I didn't think the Arjinna would have as big as of effect it had on the story line. While it was predictable to have Nalia as the Empress and Ghan Aisouri, it was surprising to see how that affects her role in the revolution. It was pretty easy to sympathize for Nalia and the situation she's in. I loved her determination to get free and it was funny seeing her petty (in comparison to Malek's power) rebellious acts against Malek. Now Malek is a completely different story. I love this guy as evil and sad as he is. It's just so easy to get entranced by him and his mysterious persona. I would love to read what his past was like and how he became the way he is now. It's really hard to get on track with his thoughts and that makes it much harder for me to just diss him off. I will admit that he isn't the greatest guy on the planet but he has his moments. And those moments are what makes me have hope for him in future books :D
Ok so I didn't have the greatest connection to Raif as I would have liked to have had. I thought it would be easy for me love and swoon over him (and swoon I did at the dance scene) but there just wasn't as much chemistry between him and Nalia as I would have liked. I did like his character and seeing him come to terms with his role in Arjinna and I guess I have more of a problem with his relationship with Nalia than anything. I thought it went way too fast and it was hard for me to get how they could feel that way in such a short time.
All in all though, I liked Exquisite Captive even though I would love to learn more about the world itself. I don't exactly know who I would recommend this to because I'm not sure if it is for all fantasy lovers or some paranormal lovers. I guess it really depends on how much a person wants to read and delve into a new world with romance with a more scattered diversity. So to anyone who's really into genies or jinns go for it and I hope you like it as much as I do!
Happy Readings!