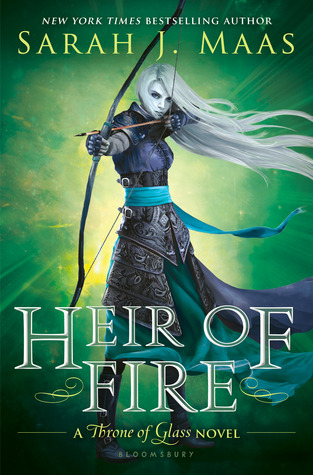 Heir of Fire by Sarah J. Maas
565 Pages
Release Date: September 2nd, 2014
Publisher: Bloomsbury USA Childrens
Source: Publisher via Netgalley
Genre: Fantasy
Rating: 4 STARS
Goodreads Summary:
Lost and broken, Celaena Sardothien's only thought is to avenge the savage death of her dearest friend: as the King of Adarlan's Assassin, she is bound to serve this tyrant, but he will pay for what he did. Any hope Celaena has of destroying the king lies in answers to be found in Wendlyn. Sacrificing his future, Chaol, the Captain of the King's Guard, has sent Celaena there to protect her, but her darkest demons lay in that same place. If she can overcome them, she will be Adarlan's biggest threat – and his own toughest enemy.
While Celaena learns of her true destiny, and the eyes of Erilea are on Wendlyn, a brutal and beastly force is preparing to take to the skies. Will Celaena find the strength not only to win her own battles, but to fight a war that could pit her loyalties to her own people against those she has grown to love?
It's hard to formulate my thoughts for this book. My feelings were all over the place. But one thing's for sure. Heir of Fire is most definitely a filler book. Full of character and plot development, the book is kind of slow but it does gain insight of many characters. Honestly, the last 50 pages was when everything went chaotic and into a frenzy. The writing and story line of this book was much more different than what I expected. Many new characters and different stories were added in addition to Celaena's.
Celaena was brought into a whole new light and perspective in this book. It strayed from the "perfect assassin" to someone who really isn't all that great especially in the eyes of the fae. She struggled a lot as she tried to master her fae part of her and use that to her advantage and was challenged repeatedly by Rowan (new character who I'll get into later). I've never seen this pivot in a character's development and I loved the way it was shown. While she didn't exactly change personality wise, she did learn a lot that helped to see why and how she's the way she is. Her view of her role in life became clear and made her even more determined than before.
As for Rowan, the indifferent fae who trains Celaena, he gave me so many mixed emotions. I'm not even sure if he's just supposed to be a friend or love interest. He has a great chemistry with Celaena both as a friend and otherwise. And I get why some people would ship them but its hard not to feel very iffy about it. But character wise I love the way he was able to challenge Celaena and make her view herself with a new perspective. It was kind of crazy (and frustrating) at first of how cold and indifferent he could be but it was nice seeing him gradually let Celaena in.
Back at the palace Dorian and Chaol's relationship is strained than never before and its so sad to see especially after seeing how great of a friendship they had in the first few books. Dorian has changed for the better although he's still as loyal as ever and it was great seeing him move on with his life. As for Chaol...I'm not sure if this was on purpose or not but he just seemed a bit weaker and more annoying in this book. It's easy to understand his intentions but it's hard to tell what his character would lead to in the next book.
Another thing that took me by surprise was the Blackbeak Clan and Manon's addition to Heir of Fire. I quite liked reading her story and I'm not sure how important her character will be in the next book for her to be included in this one. At first, I was confused on why her story was even added and if it was even necessary but as always Sarah J. Maas has her reasons for everything she writes and I'll accept it as it is and hope for the best.
Heir of Fire raised the stakes even higher and definitely set up the rest of the series or at least the next book. I'm definitely excited to see which direction the rest of the series will go in. While the beginning was pretty slow, Celeana's character development made up for it. It was much different from the first few books in the series and in a way can't be compared to them. I do think highly recommend that you read The Assassin's Blade before reading this book if you haven't done so already because Celeana's back story is referenced to in this book more so than the others. Happy Readings!