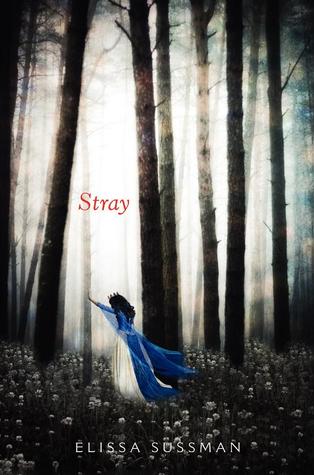 Stray by Elissa Sussman
384 Pages
Release Date: Oct. 7th, 2014
Publisher: Greenwillow
Genre: Fantasy
Source: Publisher via Edelweiss
Rating: 4 STARS
Goodreads Summary:
"I am grateful for my father, who keeps me good and sweet. I am grateful for my mother, who keeps her own heart guarded and safe. I am grateful for my adviser, who keeps me protected. I am grateful for the Path, which keeps me pure. Ever after."
Princess Aislynn has long dreamed about attending her Introduction Ball, about dancing with the handsome suitors her adviser has chosen for her, about meeting her true love and starting her happily ever after.
When the night of the ball finally arrives and Nerine Academy is awash with roses and royalty, Aislynn wants nothing more than to dance the night away, dutifully following the Path that has been laid out for her. She does not intend to stray.
But try as she might, Aislynn has never quite managed to control the magic that burns within her-magic brought on by wicked, terrible desires that threaten the Path she has vowed to take.
After all, it is wrong to want what you do not need. Isn't it?
MY THOUGHTS:
Set in a magnificently built world, Stray takes princesses to a whole new level. I loved the whole concept of the magic the princesses seemed to have and how the society deems it destructive (which I kind of get but still) and how much control they decide to take over all the girls with the curse. It was interesting seeing Aislynn's mentality on how good the Path was and just honestly trying to be good. What I wasn't expecting were the fairy godmothers. It's been so long since I've even read (or watched) something with fairy godmothers and I loved the role they had in the story.
I will admit that it was hard for me to like Aislynn when I first met her. She was so convinced of the Path and I just wasn't sure whether she would change enough to make a difference. But from the beginning I loved seeing the internal struggle she faced within herself. Not being able to control her magic caused quite a toll on her and I think it was perfect that she got assigned as a fairy godmother. It might not have seemed like the best option but I think caring for Linnea enabled her to view herself differently.
Another thing I liked was how the romance didn't take over the entire story. Of course it was there, but not so much so that it digressed from the actual story. Speaking of...Thackery is plain adorable. I can't even count how many times I giggled or "awww"ed at him and his actions. He also helped Aislynn view magic differently just as she changed his view on some of the maidens. Although I did think it would have been nicer to see more of him take a bigger role in the story, keeping cool in the background worked well with him too.
With a twist on fairy tales, Elissa Sussman did a great job building a unique fantasy world. While the book didn't leave me in a puddle of feels, it was a strong debut that I recommend to fantasy and retelling lovers. Happy Readings!