Ooook so this is the first time we're doing a book discussion for a book one of us has already reviewed and of course it would be
HEIR OF FIRE
by Sarah J Maas. So if you haven't read the series or HoF yet GO READ IT. NOW. And if you have, join us as we vent about some stuff from the book. Also since we were short on time, we didn't talk as much as we would have liked to so we mainly kind of focused on the characters than anything else.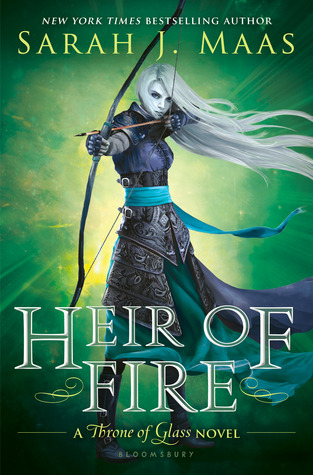 Heir of Fire (Throne of Glass #3) by Sarah J. Maas
Release Date: September 2nd, 2014
Publisher: Bloomsbury USA Childrens
Genre: Fantasy
Goodreads Summary:
Lost and broken, Celaena Sardothien's only thought is to avenge the savage death of her dearest friend: as the King of Adarlan's Assassin, she is bound to serve this tyrant, but he will pay for what he did. Any hope Celaena has of destroying the king lies in answers to be found in Wendlyn. Sacrificing his future, Chaol, the Captain of the King's Guard, has sent Celaena there to protect her, but her darkest demons lay in that same place. If she can overcome them, she will be Adarlan's biggest threat – and his own toughest enemy.
While Celaena learns of her true destiny, and the eyes of Erilea are on Wendlyn, a brutal and beastly force is preparing to take to the skies. Will Celaena find the strength not only to win her own battles, but to fight a war that could pit her loyalties to her own people against those she has grown to love?
**WARNING: THERE ARE MAJOR SPOILERS SO DON'T CONTINUE IF YOU HAVEN'T READ THE BOOK YET**
~Heir of Fire~
Taherah Abbas
SO Heir of Fire, definitely not how I expected it to go but SO MANY FEELS
I liked it. A lot. And it was 565 pages long. And I want more. I want so so so so so SO much more. Like right now.
I understaaaaand (Although the beginning was a bit slow for me that is)
No. See you told me that, and I believed you, but I don't agree. It may have been because I got lost in the gorgeousness that is Sarah J. Maas's fantasy world (Erilea? I forget what its called) but just. mmm. AGGGHH
Yeah I get it. BUT I do love how much Celaena grew (and Rowan <3)
ROWWWAAAAAAAANNNNNNNNNNNNNNNN ROWAN ROWANROWANROWAN THE MINUTE HE CAME IN I WAS LIKE MM HIM. HES GONNA BE GOOD AND HE IS AND I WANT HIM AND CELAENA TO BE PARTNERS IN CRIME FOR LIKE EVERYHTING
DUDE WAIT QUESTION: AT THE END OF THE BOOK, DID THEY SAY IF ROWAN WAS GOING WITH HER OR NOO?!?!
I was really confused by that and whether or not he was meant to be a love interest or not since it could go both ways.
HES NOT BECAUSE THEN HE'D EITHER BE STUCK AS A BIRD OR AND A FAE AND BE KILLED BECAUSE HES A FAE AND THEY DONT LIKE THAT SO HE ISNT GOING BUT I REALLY REALLY REALLY REALLY NEED HIM TOO
and honestly I don't think he's supposed to be a love interest.
I think its like Aelion's relationship with Aedion.
AHH OK MAKES SENSE.Idk they have enough chemistry to be together but also as bro/sis
I think that Rowan kinda thinks of Celaena as a younger sister. Because like all the time he's like "dude you aren't worth the trouble" also they're both really REALLY broken and I THINK CELAENA DESERVES A MALE FRIEND WHO ISNT A SHITTY LOVE INTEREST
ASHE HAS DORIAN NOW TOO AS A FRIEND. AND OMG WAIT DID SOMETHING HAPPEN TO HIM. I DONT REMEMBER BUT I KNOW SOMETHING BIG HAPPENED RELATING TO HIM
SORCHA OR WHATEVER HER NAME IS
DID SHE DIE OR SOMETHING BC SHE WAS A SPY
YES AND STUPID AEDION CONFESSED TO BEING A SPY AND IT WAS ALL GOING SO WELL AND IM AFRAID AEDION IS GONNA DIE BEFORE HE SEES CELAENA AND I REALLY REALLY NEED THEM TO BE ALIVE TOGETHER
3:51 PM
(with Rowan)
NO THAT WONT HAPPEN BC THEYVE GONE THROUGH TOO MUCH TO NOT MEET AGAIN D:
BUT IT MIGHT. THEY ARE IN A SHIT ENOUGH PLACE AND THERE'S LIKE TWO BOOKS LEFT WAAAAAAAA basically the only way I'm going to survive this series is if Celaena becomes queen with her guards being Rowan and her cousin and Dorian becomes a good king and Chaol lives. I don't care if he's with Celaena or Dorian as long as he lives
*SIGH* Chaol and Dorian SERIOUSLY need to mend their friendship. Also didn't Chaol's character seem weaker in HoF than the other books :(
Yes. He's being gross and wishy washy in this one. And he doesn't have any friends because he's trying to save everyone and its just gross. I want old Chaol.
Also Dorian honestly deserves more (esp with the terrible father that he has)
They are all screwed and the only one's with a chance at even some happiness are Celaena, Rowan, and Aedion so I'm rooting for them. OH I kinda...like Manon. Even though she's scary and evil I want her to side with Celaena. I feel like she would too if she were given the choice
Oooh yeah definitely. When her chapter first came into the book, you don't know how confused I was. Seeing the way the clans worked was just creepy and I would never want to be a part of that
Yeah but she's super cool. I feel like I shouldn't be but I'm rooting for her. Also sometimes I liked her chapters better than I liked Chaol and Dorian ones. THIS IS WHY I DONT LIKE CHARACTER SWITCHY BOOKS I mean I love it and Heir of Fire really needs it and it works beautifully and I wouldn't change it at all but I always end up liking some stories so much more than others
I feel like I would have lost if there weren't different character POVs since EVERYTHING connects together
For HoF definitely I honestly would have been too and it wouldn't have been as amazing if we didn't have breaks from Celaena's pitty party. I really like the way its broken up
Mhmmmm also I reaaaally didn't like Maeve. She was annoyingggg
YES SOMEONE SHOULD PUNCH HER IN THE FACE SO HARD
Especially at the end when Celaena and Rowan went to her and she was being terrible
Basically I loved this book and if I could give it more than 5 stars I would.
4.5 for me
Thoughts on the book? Characters? Love? Hate?
Tell us in the comments below!