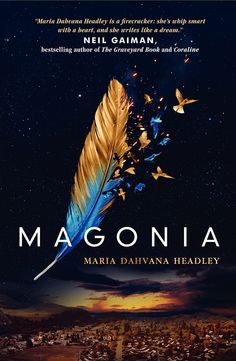 Magonia by Maria Dahvana Headley
320 Pages
Release Date: April 28th, 2015
Publisher: Harper Collins
Genre: Parnormal/Sci-fi
Source: Publisher via Edelweiss
Rating: 3.5 STARS
Goodreads Summary:
Neil Gaiman's Stardust meets John Green's The Fault in Our Stars in this fantasy about a girl caught between two worlds…two races…and two destinies.
Aza Ray is drowning in thin air.
Since she was a baby, Aza has suffered from a mysterious lung disease that makes it ever harder for her to breathe, to speak—to live.
So when Aza catches a glimpse of a ship in the sky, her family chalks it up to a cruel side effect of her medication. But Aza doesn't think this is a hallucination. She can hear someone on the ship calling her name.
Only her best friend, Jason, listens. Jason, who's always been there. Jason, for whom she might have more-than-friendly feelings. But before Aza can consider that thrilling idea, something goes terribly wrong. Aza is lost to our world—and found, by another. Magonia.
Above the clouds, in a land of trading ships, Aza is not the weak and dying thing she was. In Magonia, she can breathe for the first time. Better, she has immense power—and as she navigates her new life, she discovers that war is coming. Magonia and Earth are on the cusp of a reckoning. And in Aza's hands lies the fate of the whole of humanity—including the boy who loves her. Where do her loyalties lie?
Cover Rant: HOW CAN A COVER BE THAT PRETTYYYY?! LOVE THE GOLD UPON THE NAVY BLUE SKY. AND THERE'S TWINKLING STARS. AND THE BIRDS THAT ARE COMING OUT OF THE FEATHER? GORGEOUS. I can't get over it.
I'm not sure how to describe Magonia or my feelings for it to be honest. I didn't hate or love it so I'm pretty sure it's safe to say that I liked it. It was just so odd for lack of a better term. The first third of the book is basically seeing Aza deal with her illness and seeing her relationship with her family. From then on, we dive into the world of Magonia and this avian hybrid thing (I'm not entirely sure what the name is for their entire species). I feel like we barely grazed the world and there's just so much that was underdeveloped than I hoped. Everything happened too fast and it was just a different style than I'm accustomed to. I will say that if saw much more of the world and how it worked I would have loved it more. I loved that Magonia was able to be original but was also something some people used to believe in centuries ago.
Aza and Jason were characters that were easy to connect to. They had their own unique voice and saw life in a different perspectives. I loved that they had their own little things like the apology letters and the morse code. We see a close relationship Aza has with her whole family and I really love how that was written. She had people she loved on the ground but then suddenly gets thrusts into a world in the sky that she doesn't really want to be a part of. There are some chapters that are written in Jason's point of view and you just totally understand how much he believes and loves Aza.
A book that explores the hidden myth of realm in the sky, Magonia and it's world captivated me. While it didn't reach my high expectations, it was a decent book. I recommend this book to readers looking for a change in necessary. If anything this is an acquired taste. It would have been awesome if it went more in depth of how Magonia functions. It is short so if anything give it a try if it seems interesting. Also the whole it's like the The Fault in Our Stars is kind of misleading because it really isn't...Happy Readings!