A Court of Thorns and Roses by Sarah J. Maas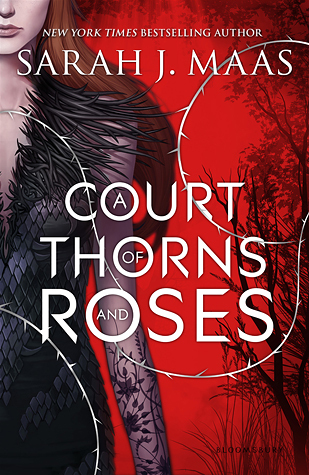 432 Pages
Release Date: May 5th, 2014
Publisher: Bloomsbury USA Childrens
Source: Publisher
Genre: Fantasy
Rating: 5 STARS (if I could give more I would)
Goodreads Summary:
A thrilling, seductive new series from New York Times bestselling author Sarah J. Maas, blending Beauty and the Beast with faerie lore.
When nineteen-year-old huntress Feyre kills a wolf in the woods, a beast-like creature arrives to demand retribution for it. Dragged to a treacherous magical land she only knows about from legends, Feyre discovers that her captor is not an animal, but Tamlin—one of the lethal, immortal faeries who once ruled their world.
As she dwells on his estate, her feelings for Tamlin transform from icy hostility into a fiery passion that burns through every lie and warning she's been told about the beautiful, dangerous world of the Fae. But an ancient, wicked shadow grows over the faerie lands, and Feyre must find a way to stop it . . . or doom Tamlin—and his world—forever.
Perfect for fans of Kristin Cashore and George R. R. Martin, this first book in a sexy and action-packed new series is impossible to put down!
I honestly cannot even begin to describe to you the extent of my emotions for this book. Sarah J. Maas has fucking done it again, if you liked Throne of Glass or like any fantasy book ever or beauty and the beast this is totally the book for you or even if you don't, read this anyways. I'm fairly positive the first time I read A Court of Thorns and Roses I had a test the next day that I chose to not study for and instead stay up until 30 minutes before I was supposed to wake up to go to school in order to finish. Yup. I even described the ENTIRE plot to one of my friends about 3 months later because I was (and am) still hung up over this book. If you like books with magic and romance and the fey and monsters and adventure this is totally a book for you. Its just SO GOOD. I wish I could fully describe to you how this book makes me feel. Its one of those books where once you've finished it you sort of come out of this self induced coma you hadn't realized you were in and theres that hole in your chest that come back whenever you finish reading a book the haunts your soul (that sounds so creepy lol) and you just can't understand why everyone else hasn't or isn't reading this book... Yeah...thats kinda the surface of how I feel about ACOTAR... BASICALLY ITS REALLY GOOD AND EVERYONE SHOULD READ IT BECAUSE SARAH J MAAS ROCKS AT LIFE AND ITS AWESOME! SO THERE!
Now. Feyre. (its pronounced Fey-ruh for those of us who (like me) kinda ignore how names sound if they are spelled weirdly) She's so cool and angry and awesome. Feyre is really badass. She takes care of her family and learns to hunt and basically does everything for nothing (not even appreciation really) in return. Feyre is just so strong even though she's been forced into this horrible world she just accepts it and tries to make the best of it she can. The thing that makes Feyre really amazing though is that fact that she's so flawed. She really seems real. She is strong and amazing but at the same time she's sometimes stubborn and hateful. She has so many flaws and yet even when they get her into really tough situations they seem to be part of her strength. Also she can't read. I don't know if this is the same for you people but to me it makes Feyre seem really vulnerable. Yes, she's strong and can hunt and protect herself for the most part but then at the same time she never learned how to read and suddenly she's real again. Just as strong, just as amazing, and yet more...I don't know how to describe it. But anyways, Feyre is badass. She gets thrown into terrible situations whether by her own stupidity or unwillingly by others and she deals with them as gracefully and as best she can and she doesn't let it break her. Her view points and the way she sees the world are very compelling and you can't help but feel the same way. I didn't realize this until the second time I read ACOTAR because the change is so seamless and life like that you don't even notice when she goes from hating to acceptance and even contentment. (and yes thats intentionally vague) Its amazing.
So. Tamlin. I'm not even sure what I can say about Tamlin except that I love him. He is smart and surly and brave and fierce and vicious and sexy and amazing and complicated and heartbreaking and wonderful all at once. At first he's very...gruff but I promise he just...ugh I can't even explain it because words and spoilers but you just start to get him. Its very gradual too, like with the changes in Feyre (which may or may not be related I ADMIT TO NOTHING). I honestly am not sure how much I can say without spoiling anything which I really don't want to do so I'm going to stop talking (typing?) now. But you should all go read this book to see the beauty and gorgeousness that is Tamlin. Because it's fucking spectacular.
Writing this review makes me want to go re-read this book...again. I honestly want to just vent and discuss this whole amazing roller coaster this book is but I can't because
spoilers
. But honestly A Court of Thorns and Roses is an amazing book. It is captivating and impossible to put down and the characters are so incredibly life like despite the fact that this is fantasy. Just check it out. Its totally worth your time and the lack of sleep reading it will cause you.
AND IF ANYONE FINISHES THIS BOOK AND NEEDS TO TALK TO SOMEONE ABOUT IT I WILL ALWAYS BE THERE PLEASE TWEET ME ABOUT IT OR SOMETHING BECAUSE I WILL ALWAYS NEED SOMEONE TO TALK TO ABOUT THIS BOOK. Happy reading! BYEEEEE