All new The Thing About Books in which we discuss books we love :)
This week is the first time we're going to be fangirling over an NA book,
Cora Carmack's recently released novel, ALL LINED UP. PLEASE only read this post
if you've already read this book! This post isn't tooo spoilery but we do mention
some scenes that are better read first then fangirled over ;D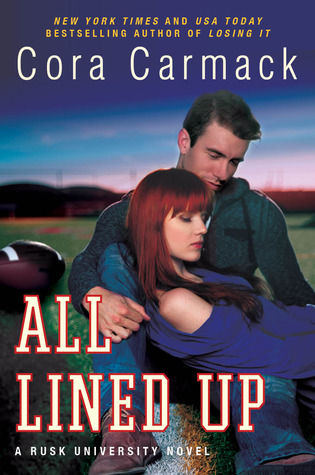 All Lined Up by Cora Carmack
Release Date: May 13th, 2014
Publisher: William Morrow Paperbacks
Goodreads Summary:
In Texas, two things are cherished above all else—football and gossip. My life has always been ruled by both.
Dallas Cole loathes football. That's what happens when you spend your whole childhood coming in second to a sport. College is her time to step out of the bleachers, and put the playing field (and the players) in her past.
But life doesn't always go as planned. As if going to the same college as her football star ex wasn't bad enough, her father, a Texas high school coaching phenom, has decided to make the jump to college ball… as the new head coach at Rusk University. Dallas finds herself in the shadows of her father and football all over again.
Carson McClain is determined to go from second-string quarterback to the starting line-up. He needs the scholarship and the future that football provides. But when a beautiful redhead literally falls into his life, his focus is more than tested. It's obliterated.
Dallas doesn't know Carson is on the team. Carson doesn't know that Dallas is his new coach's daughter.
And neither of them know how to walk away from the attraction they feel.
~All Lined Up~
I love all of Cora Carmack's books. A lot. But I think All Lined Up might just be my favorite.
Definitely! So easy to get hooked into the story :D
I love how we meet Carson!
3:59 PM
Yesssss right when she screamed I was already squealing b/c he would no doubt be there XD
Oh my gosh! And how she jumped off the balcony and basically flashed him XD it made me really happy
I love how it was so unexpected (in Carson's POV) to even meet her.
I just...I love Carson. Like everything about him. AAHHH AND WHEN THEY STARTED MAKING OUT EVEN THOUGH THEY JUST MET AND JUST THAT WHOLE SCENE <3
AND WHEN STELLA CAUGHT THEM! I was laughing by then :P
There were a couple times throughout this book where I couldn't stop my self from actually laughing out loud
Agreeeeeeeed! Am I the only one who found it absolutely hilarious that they wanted to get together but then not but became friends instead?
I just...I knew even though they told themselves they were friends...they weren't...there was too much cuddling and back rubs and attraction between them
YUP...too much sexual tension between them to just be friends
And Cora Carmack did a wonderful job giving enough tension ;D
So much tension...OMG I LOVED THE WAY THEY FOUND OUT ABOUT EACH OTHER WITH THE WHOLE DROPPING THE FOOTBALL THING AND AAHHHH
And in the field....with her dad there :P I loved reading both POVs because it just makes it so much easier to relate to the characters and be less judgmental
YES I SAW BOTH OF THEIR SIDES AND SYMPATHIZED WITH IT REALLY WELL. Dude the way things were solved though..a lot less scary and emotionally scaring than I thought it was going to be. I spent half the book cringing at how much the climax was gonna suck because I loved the characters so much and it really didn't...there was very little pain
I UNDERSTAND. I doing the same! But honestly Im so happy to didn't end/have that big of an emotional toll on me because I would have been a huge mess
YES!!!!! Instead what's his face asshole exboyfriend was stupid and got caught doing drugs and Carson got to start and made them win enough times that they were happy and things were still ok with Dallas
Yessssss Levi can go dieeeee also I like Silas. HE'S COOOOOLish (depending on circumstance)
In the end he kicked ass. Also her dad was waaaaay cooler about everything than I thought he would be
I liked seeing their father-daughter relationship progress as the book went on.
It helped to add to the originality of the story
MMMm Yes. I also loved that time when Carson won a game and Dallas was there and they made out and her dad was like "If you're done we have to review the game" XD
*giggles* They're so cute and JUST TOO ADORABLE
YYYEEEEEES and I love how her dad totally believes in Carson and THAT ONE PEP TALK WHERE HE TOLD THE WHOLE TEAM HOW DEDICATED CARSON WAS
And how he personally encourages Carson. He's an awesome coach and knows exactly what needs to be done t owin
Caitlyn Crowe
I don't even like football. At all. And he/Carson/this book kinda made me think I did.
Lol I still don't like football but I can appreciate people who do
Oh, same. Football...lets just say I like hockey better. OMG What about the "Just thought I'd let you know for when I do slip up, so you know I tried" because those were like my favorite lines
OH MY GOD YESYESYESYES THAT WAS EPICCCCCCC AND BEAUTIFUL BECAUSE IT JUST HAPPENED SO CASUALLY AND UNMISTAKABLY AND I CANT EVEN
AND HE SAID HE LOVED HER AND THAT WHOLE LIKE PARAGRAPH HE SAID AFTER AND THEN HER ADORABLE TEASING AND HE WOKE UP EARLY JUST TO SEE HER AND AH
AND IT WASN'T AWKWARD WHATSOEVER. IT WAS JUST SAID AND DONE
THEY ARE JUST. TOO. CUTE!!!
OH OH also Dance. I love the way dance was expressed in this book and the way it affects Dallas
Like the dance at the end/middle/ THE CARSON DANCE
Basically :D
I really love it...
With all that said I loved All Lined Up. Definitely giving it 5 stars :)
AGREED