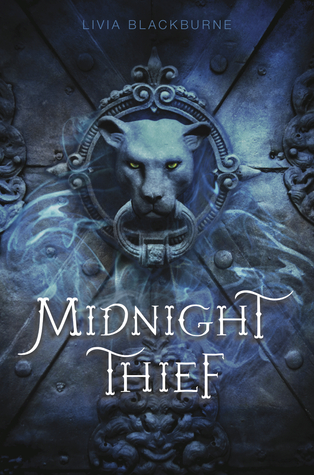 Midnight Thief by Livia Blackburne
368 Pages
Release Date: July 8th, 2014
Publisher: Disney Hyperion
Genre: Fantasy
Rating: 4 STARS
Goodreads Summary:
Growing up on Forge's streets has taught Kyra how to stretch a coin. And when that's not enough, her uncanny ability to scale walls and bypass guards helps her take what she needs.
But when the leader of the Assassins Guild offers Kyra a lucrative job, she hesitates. She knows how to get by on her own, and she's not sure she wants to play by his rules. But he's persistent—and darkly attractive—and Kyra can't quite resist his pull.
Tristam of Brancel is a young Palace knight on a mission. After his best friend is brutally murdered by Demon Riders, a clan of vicious warriors who ride bloodthirsty wildcats, Tristam vows to take them down. But as his investigation deepens, he finds his efforts thwarted by a talented thief, one who sneaks past Palace defenses with uncanny ease.
When a fateful raid throws Kyra and Tristam together, the two enemies realize that their best chance at survival—and vengeance—might be to join forces. And as their loyalties are tested to the breaking point, they learn a startling secret about Kyra's past that threatens to reshape both their lives.
Midnight Thief was a lot more different than what I expected it to be. But it was a good different and I'm glad that it diverged onto its own path. With an excellent plot full of its range of characters, the story had me intrigued once I read what Kyra could do. I will admit that frustrating is the first word that comes to mind when I think about this book. It wasn't necessarily a bad frustrating since it didn't really affect how I overall felt about Midnight Thief. Some of the events that happen just wanted to make me tear my hair out and groan. The thing about this story is that its full of shades of gray from being a thief to being part of the Red Shield to the Demon Riders. There's an emphasis on the good and bad of both that it balances out the feelings (negative or positive) about the position/role of the characters.
Kyra!!! I love her abilities and how they were put to use in the story. It was really cool seeing this new certain type of thief in a fantasy novel. It was also interesting seeing how Kyra took it upon her to help the orphaned children aka street rats. There was mainly a focus on Lettie and Idalee but I would have liked to have seen her with the other children. Flick, her best friend, is just plain awesome and I just loved seeing them together. There's nothing more that can be said to express how wonderful of a person he is to Kyra and to the story itself. Bella is the perfect mother figure and has had a deep impact on Kyra, Flick, Idalee, and even Lettie. She depicts that caretaker they all need and will always be a part of what Kyra/Flick consider family.
Tristan brought in the shade of gray to the Red Shields. He has this pure and honest heart that awes me with his determination and consideration for others. I think it would have helped to see Kyra work more with Tristan than the little time they did in order to build a closer and clearer relationship. It was weird knowing about Tristan but them not actually meeting each other until the middle of the book. But that could just be an issue I just had since I'm not used to it. James, the leader of the Assassin's Guild, creeped me out from the beginning and it was really hard to trust him. His intentions as good as they may have been conflicted entirely with his means. And I can't say more without ruining the entire book!!
Enthralling and action-packed, Midnight Thief is a riveting story for all fantasy lovers and might interest some paranormal lovers as well. Although it isn't full of romance, there are some scenes that were adorable to read. Definitely recommend this book! Happy Readings!!