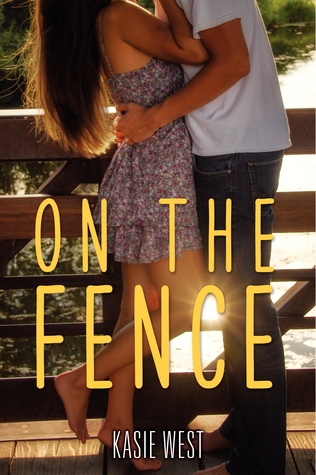 On the Fence by Kasie West
Release Date: July 1st, 2014
Publisher: HarperTeen
Genre: Contemporary
Goodreads Summary:
She's a tomboy. He's the boy next door…
Charlie Reynolds can outrun, outscore, and outwit every boy she knows. But when it comes to being a girl, Charlie doesn't know the first thing about anything. So when she starts working at a chichi boutique to pay off a speeding ticket, she finds herself in a strange new world. To cope with the stress of her new reality, Charlie takes to spending nights chatting with her neighbor Braden through the fence between their yards. As she grows to depend on their nightly Fence Chats, she realizes she's got a bigger problem than speeding tickets-she's falling for Braden. She knows what it means to go for the win, but if spilling her secret means losing him for good, the stakes just got too high.
Fun, original, and endearing, On the Fence is a romantic comedy about finding yourself and finding love where you least expect.
Taherah's Review: 4.5 STARS
Undeniably sweet and full of laughs, On the Fence is the perfect summer read. Besides when you put Kasie West together with a contemporary book especially a best friend romance, it's a no brainer that it's a must read. And how great it was! Although a bit cliche, there was a strong story line with WONDERFUL characters. What I didn't expect was the darker bit of the story which was hinted at by the middle of the book. Even though it clashed with the story's lightheartedness, Kasie West was able to mesh it into the plot really well. And it helped to show more character development and attitude changes to Charlie's personality.
I loved seeing Charlie go through phase as she starts to adjust and see what girls usually do. She has this awkward yet frank disposition on her lack of knowledge and it's pretty hilarious. I will admit in the beginning there were some wincing moments on some of her actions. She does acknowledge it but in a Charlie-like reasoning that differs from others. It is easy to see where she's coming from and that just made it even easier to connect to her. Sweet and perfect, Braden's character is put in the perfect role as the love interest. Being childhood friends with her and her 3 older brothers, he understands and knows her so well. Their game in their fence chats actually is what seemed to prompt Charlie into seeing how observant and attentive Braden is. His feelings were pretty obvious from the start and it was funny reading about Charlie trying to deny her feelings and deal with the feelings in general.
Of course I can't go without mentioning Gage, Nathan, and Jerom all of whom are Charlie's amazing brothers. Gage is the older brother I really want. He's always there for Charlie and it was really nice seeing that sibling relationship. I loved seeing the way sports really helped to unite the family and how close they were in part because of that. In a house with all guys, there was inevitably going to be an aggressive protectiveness over Charlie. The way they would act when she was with a guy was hilarious as they created the perfect balance between being not too overbearing. Linda was definitely the mother figure in this novel that really helped portray how much Charlie's mother's death affected her. With a slight cameo appearance from Caymen and Skye from The Distance Between Us, all the additional characters helped to bring the warmth that On the Fence had.
Short and cute, On the Fence is not a book to miss out on. Definitely recommending this to contemporary lovers and those searching for a light read with depth. Happy Readings!
Caitlyn's Review: 4.5 STARS
So...I've gotta be honest with you. I really really REALLY liked this book. I mean...its Kasie West. She's a gorgeous writer. I will probably read everything she writes. But not just that this book was a textbook contemporary YA novel. Even if it was a little cliche it worked really well and DAMNIT sometimes people need a little cliche. Its nice, especially when reading during the summer. Now, I'm going to tell you I'm going to play a little devil's advocate because I think Taherah did a really good job talking about On the Fence already...but thats only part of it. The other half is I read this a really long time ago and can only remember the parts I really loved and kinda didn't like soooo....yeah. Here goes.
I love Charlie. I love her exactly the way she is. She is an insane tomboy and is super athletic and just frickin awesome. Her relationship with her brothers and dad and guy friends. I also liked her first relationship with a friend who was a girl. It was so great seeing her awkwardness and she was so abrupt and felt uncomfortable about things girls talk about all the time. But I didn't like that she felt like she had to drop everything from her old life and become this gross girly girl thing. And her boyfriend dude or who ever he was I WANTED TO PUNCH HIM IN THE FACE! I just really wanted her to find a happy medium and to get her self confidence back.
So...Braden. I LOVE THEIR FENCE TALKS MORE THAN ANYTHING IN THE WORLD! And beginning of the book Braden was basically my favorite character but as time went on...UGH I WANTED TO PUNCH HIM TOO LIKE JESUS CANT YOU SEE ANYTHING YOU BLUBBERING IDIOT! I'm ok with him now ;) There are some points where I got really irritated with all the characters but I totally forgave them a thousand times over. Ok. I realize this sounds like I really didn't like On the Fence but understand: I LOVE THIS BOOK, I just needed a place to vent these emotions and Taherah is so much better at remembering and explaining these things. Basically a agree with everything Taherah said and this is just added on to that. All and all On the Fence is a great read and you should definitely pick it up and give it a shot