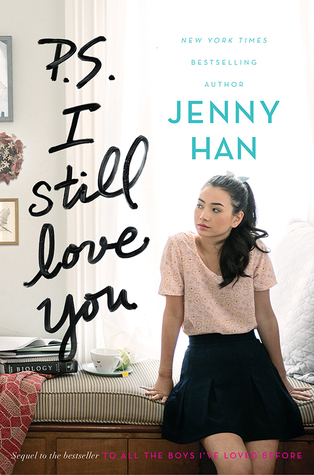 P.S. I Still Love You by Jenny Han
(To All The Boys I've Loved Before #2)
337 Pages
Release Date: May 26th, 2015
Publisher: Simon & Schuster Books for Young Readers
Rating: 5 STARS
Goodreads Summary:
Lara Jean didn't expect to really fall for Peter.
She and Peter were just pretending. Except suddenly they weren't. Now Lara Jean is more confused than ever.
When another boy from her past returns to her life, Lara Jean's feelings for him return too. Can a girl be in love with two boys at once?
In this charming and heartfelt sequel to the New York Times bestseller To All the Boys I've Loved Before, we see first love through the eyes of the unforgettable Lara Jean. Love is never easy, but maybe that's part of what makes it so amazing.
I can't even begin to describe my love for this book. I could probably write it all in caps but then I would feel bad and it would probably end up incoherent (which might even happen later in this post). Either way, P.S. I Still Love You has become one of my favorite contemporary reads and if you haven't yet read
To All The Boys I've Loved Before
then please do so for your own benefit. The story starts off pretty much a few days after TATBILB ended. I loved reconnecting with Lara Jean and her family (KITTY <3). I was really glad that they were still a central part of Lara Jean's life and that it doesn't stray from it. I will admit that there were some cliches and it was a bit predictable but I still loved it.
Lara Jean deals with a lot of uncertainty in her life, especially when it comes to her relationship with Peter. Things go hectic from the beginning and it's a totally new type of experience for her. It was so easy to connect to all her emotions from the beginning to the end. I love her enthusiasm for the stuff she loves like Belleview (senior center of sorts) and her plans/DIY ideas. It's just so cute and you can just tell how determined she is. Kitty is a character we see more of and she seems so much older than she is and I keep thinking that she's younger than she actually is for some reason so it seems like she's grown much more than I probably think. (I also swoon at the attention Peter gives Kitty. It's too cute and nice and perfect.)
Then there's Peter. Oh Peter. Don't get me wrong, I love Peter but sometimes he doesn't make the best of decisions. But I will say that when he and Lara Jean fight, I do understand his POV and why he does what he does but it just doesn't help him :P It was pretty heartbreaking whenever they had their rough patches and it frustrating on both parts. And then there's John Ambrose McClaren. You don't know how much I LOVE him. So much so that I might not have minded if Lara Jean ended up with him (in my defense he's pretty much perfect and swoon worthy and I would want a guy like him in my life). There are just things he does and says where my heart just melts. But it's the same with Peter.
THIS BOOK WAS JUST PLAIN CUTE AND ADORABLE OKAY. If you need a book with "heeheee moments" (that's what I call them not sure if other people use this term) and you're not sure if you want to continue Lara Jean's story despite how TATBILB ended, then I assure you JUST READ THIS BOOK AND YOU WILL UNDERSTAND HOW BEAUTIFUL IT IS. Everyone in this book is just amazing and it gives all the flails and feels and giggles.. Happy Readings!