Siren's Fury
(The Storm Siren Trilogy #2)
by
Mary Weber
Publisher: Thomas Nelson / HarperCollins
Release Date: June 2nd 2015
Genre: Young Adult, Fantasy, Romance
Rating: 4 STARS
Synopsis:
"I thrust my hand toward the sky as my voice begs the Elemental inside me to waken and rise. But it's no use. The curse I've spent my entire life abhorring—the thing I trained so hard to control—no longer exists."
Nym has saved Faelen only to discover that Draewulf stole everything she valued. Now he's destroyed her Elemental storm-summoning ability as well.
When Nym sneaks off with a host of delegates to Bron, Lord Myles offers her the chance for a new kind of power and the whispered hope that it may do more than simply defeat the monster she loathes. But the secrets the Bron people have kept concealed, along with the horrors Draewulf has developed, may require more than simply harnessing a darker ability.
They may require who she is.
Set against the stark metallic backdrop of the Bron kingdom, Nym is faced with the chance to change the future.
Or was that Draewulf's plan for her all along?
**Spoilers from Storm Siren**
Siren's Fury was a phenomenal sequel to Storm Siren. I know I liked Storm Siren but Siren's Fury took the story to another whole level. After the Storm Siren cliffhanger, it was obvious that things were taking a turn and in Siren's Fury we further delve into the politics and magic of the world. There were points in the story where I felt a tad bit overwhelmed. But generally speaking I loved seeing Bron and how the kingdom really differed from Faelen.
Was it just me or was Nym a lot of more snarky/sassy in this book compared to the first? Not that I'm complaining but I guess I just don't remember XD ANYWAYS things are going crazy in Nym's world. Draewulf is starting to take over Eogan's body, Nym's lost her Elemental powers, and she has to find a way to stop Draewulf without also killing Eogan. She's left in a state where she's craving the power to do something to save Eogan and difficult decisions to make. We also see how strong her relationship with Rasha has become and the difference in opinion they both have. It was easy to understand both of their reasoning and see both sides of the situation. Myles was interesting character that I've never really cared for but alas important.
I personally feel like this was had an even balance of plot and character development. Nym, especially, has a lot to deal with internally and that really drives her character and events in the story. At the same time, we learn more about the world and about Draweulf's plans which I think begins to shape the true plot than beyond Draewulf himself. So sorry is this review has become insanely vague but I don't want to spoil or ruin anything :o
Underlying the power of choice and power itself, Siren's Fury is a captivating and action packed read. For fans of the first book and fantasy lovers, the Storm Siren series and Siren's Fury is a must! Happy Readings!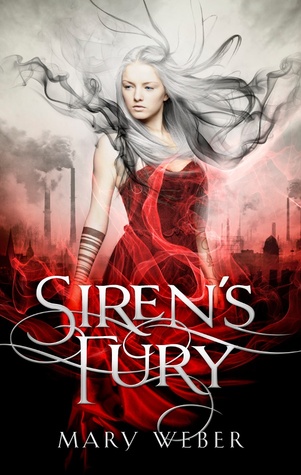 Mary Weber is a ridiculously uncoordinated girl plotting to take over make-believe worlds through books, handstands, and imaginary throwing knives. In her spare time, she feeds unicorns, sings 80's hairband songs to her three muggle children, and ogles her husband who looks strikingly like Wolverine. They live in California, which is perfect for stalking L.A. bands, Joss Whedon, and the ocean. Her debut YA fantasy novel,
STORM SIREN
, is available now in bookstores and online, and
SIREN'S FURY
(book 2 in the trilogy) will be out June, 2015 from TN HarperCollins.
US Only