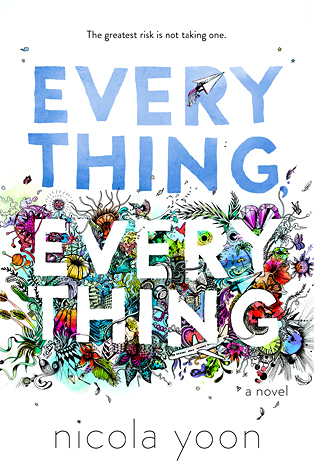 Everything, Everything by Nicola Yoon
320 Pages
Release Date: September 1st, 2015
Publisher: Delacorte Books for Young Readers
Source: YallWest via Author
Rating:
4-4.5 STARS
Goodsreads Summary:
My disease is as rare as it is famous. Basically, I'm allergic to the world. I don't leave my house, have not left my house in seventeen years. The only people I ever see are my mom and my nurse, Carla.
But then one day, a moving truck arrives next door. I look out my window, and I see him. He's tall, lean and wearing all black—black T-shirt, black jeans, black sneakers, and a black knit cap that covers his hair completely. He catches me looking and stares at me. I stare right back. His name is Olly.
Maybe we can't predict the future, but we can predict some things. For example, I am certainly going to fall in love with Olly. It's almost certainly going to be a disaster.
First of all, let me GUSH over this cover. It's so detailed and colorful and it feels so nice that I can legit pet it for an entire day. To sum it up it's beautiful and just full of life. Speaking of illustrations, I loved that there were hand drawn like pictures and charts/emails/texts. It just emphasized Madeline's thoughts and personality and made the book all the more fun to read. Everything, Everything was everything everything. I'm quite surprised by how much I liked this book since I don't do well with books that deal with health and such. But oh god, Everything, Everything was illuminating and so so sweet.
Madeline is brave. She handles with her disease as easily as doing anything else. She doesn't complain or whine much about her situation. I could sometimes relate to her because of her love for books and part of her personality. But in a way, she's pretty much the opposite of me. She's full of emotion and willing to risk so much for love. I've never been put through something in which I had to and if I were I don't think I would be able to. There's just so much at risk. And that's why this book spoke to me. Because it was all about taking risks and just showed how worthwhile some can be.
I loved seeing Madeline's relationship with Carla and how close they were. She was her rock and balanced Madeline's mom's over-protectiveness/worry and concern. Olly was a fun character and I very much enjoyed his conversations with Madeline. And just all the swooooooooooons *sigh*
Everything, Everything is for all the teens. YA readers, contemp readers. For everyone really. The unique formatting added to the book's personality. Read it for you, a friend, for Nicola (who is a sweetheart btw)! Listen to Nike and just do it! Happy Readings!