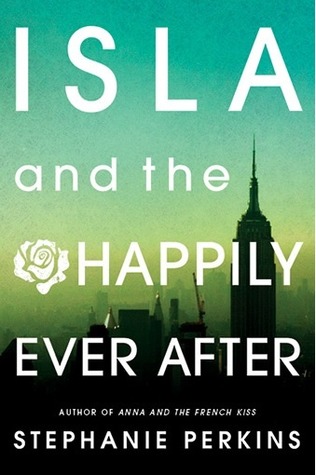 Isla and the Happily Ever After by Stephanie Perkins
352 Pages
Release Date: August 14th, 2014
Publisher: Dutton
Genre: Contemporary
Rating: 4.5 STARS
Goodreads Summary:
Love ignites in the City That Never Sleeps, but can it last?
Hopeless romantic Isla has had a crush on introspective cartoonist Josh since their first year at the School of America in Paris. And after a chance encounter in Manhattan over the summer, romance might be closer than Isla imagined. But as they begin their senior year back in France, Isla and Josh are forced to confront the challenges every young couple must face, including family drama, uncertainty about their college futures, and the very real possibility of being apart.
Featuring cameos from fan-favorites Anna, Étienne, Lola, and Cricket, this sweet and sexy story of true love—set against the stunning backdrops of New York City, Paris, and Barcelona—is a swoonworthy conclusion to Stephanie Perkins's beloved series.
A beautiful conclusion to Anna's, Lola's, and Isla's journeys, Isla and the Happily Ever warmed my heart. I've had high expectations for this book ever since I heard Isla would be getting her own story. And while I was let down in a few scenes, I really loved how Stephanie Perkins ended the book and their stories. The plot did have as big of an impact as I thought it would but what did stun me away were the characters. Also so sorry if I'm vague with the events in this book :o I'm not quite sure what's considered spoilery or not so just trying not to post any.
I loved Isla from the first page. Honestly the beginning of this book was just great and totally unexpected. But in the middle of the book, once Isla is all about Josh, it was surprising seeing how much she changed. For better or worse, it was either for me to cheer her or get irritated by her. Luckily, the end of the book saved me and just made me love the way turned out. It was generally easier for me to read the aftermath of everything that happened which surprised me. I think it was all about Isla's character development that strengthened the story. It helped seeing how she and her whole life change due to being with Josh.
And of course I can't forget to mention Kurt. I loved learning about autism and how Kurt dealt with it and how other around him had to deal with. He was the constant and good in Isla's life and it hurt when things got a bit strained between them. As Isla's best friend and a guy with autism, I was intrigued by how he would react to having to change stuff he did to adjust to what was new to Isla's life and I loved how Stephanie Perkins portrayed his character and his character development,
Josh is adorable. He's been my second favorite character (after St. Clair of course ;D) after reading Anna. I loved his art, his awkwardness (at the beginning), and just him. It was sad knowing that he wouldn't be with any of his friends since they all graduated and I loved that him and Isla did have the tiniest bit of history that started their story. His spontaneity definitely juxtaposed Isla's personality and I wasn't sure if I liked him with Isla at times. There were times were they were so good for each other but at the same time I feel like they both could have gone on with their lives without each other as sad as that is. (I DO SHIP THEM THOUGH) I think that was part of why I loved reading the end of the middle and the end of the story.
Overall, ISLA is not a book to miss out on and the perfect contemporary read. AND THERE WAS BEAUTIFUL CAMEOS MADE BY PREVIOUS CHARACTERS (ST. CLAIR <3). Road trips, friendships, relationships, and family...THE FACT THAT IT'S WRITTEN BY STEPHANIE PERKINS...why wouldn't you read it?