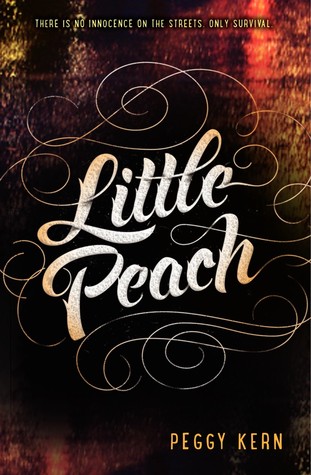 Little Peach by Peggy Kern
208 Pages
Release Date: March 10th, 2015
Publisher: Balzer and Bray
Genre: Contemporary/Realistic Fiction
Source: Publisher via Edelweiss
Rating: 4 STARS
Goodreads Summary:
What do you do if you're in trouble?
When Michelle runs away from her drug-addicted mother, she has just enough money to make it to New York City, where she hopes to move in with a friend. But once she arrives at the bustling Port Authority, she is confronted with the terrifying truth: she is alone and out of options.
Then she meets Devon, a good-looking, well-dressed guy who emerges from the crowd armed with a kind smile, a place for her to stay, and eyes that seem to understand exactly how she feels.
But Devon is not what he seems to be, and soon Michelle finds herself engulfed in the world of child prostitution where he becomes her "Daddy" and she his "Little Peach." It is a world of impossible choices, where the line between love and abuse, captor and savior, is blurred beyond recognition.
This hauntingly vivid story illustrates the human spirit's indomitable search for home, and one girl's struggle to survive.
Ok honestly, I probably never would have read this book. It's not the type of book I read and the ones that do broach this subject end up failing miserably. But I did see positive feedback and it was short so I decided why not. And I'm quite glad I had the chance to read this. I love the writing style (which did take me off guard) and how it was so easy to slip into the story. While prostitution isn't a subject many authors veer towards in YA stories, I like the message it sent and how it helps teens/society to not be ignorant of what is going around us that we may not see.
Michelle has had a hard life ever since she was a child and it got worse for her once her grandpa died. The fact that she was 14 killed me. It was easy to understand how she could listen to Devon and hope for a better life. The thing was that she wasn't exactly innocent or naive per se to the dangers of the world with the family she was raised in but her hopes and dreams of having a home with people that wanted her overruled what she was brought into. The Before/Now alternating chapters explained why and how she felt as she met Devon, Baby, and Kat.
I wasn't expecting Michelle to meet and become close friends with Baby and Kat. They all became close, literally like family. While they might not have always gotten along, they supported one another the best way they could.The thing was that I could see why they would choose to work for Devon and how it was a better alternative for them to do so. And it's so sick for guys like those to request or even be okay with a 12 YEAR OLD or whatever age to become a prostitute and fulfill their needs. It's so much more organized and complicated than I ever thought it could be.
Haunting and heartbreaking, Little Peach is a book that will you make you take a step back from your comfort zone. It shows the devastating reality that many girls have to live through and I will admit it is a hard book to read. This book is a bit graphic and may not be some people but I do believe it is a book that people should read. Happy Readings!