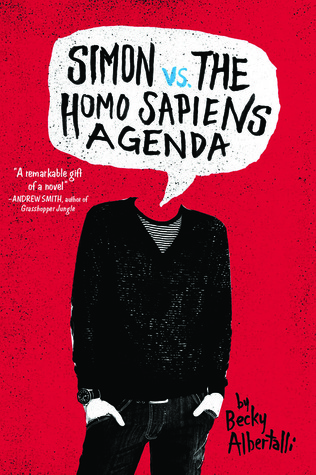 Simon vs. the Homo Sapiens Agenda by Becky Albertalli
320 Pages
Release Date: April 7th, 2015
Publisher: Balzer and Bray
Source: Publisher via Edelweiss
Genre: Contemporary
Rating: 4.5-5 STARS
Goodreads Summary:
Sixteen-year-old and not-so-openly gay Simon Spier prefers to save his drama for the school musical. But when an email falls into the wrong hands, his secret is at risk of being thrust into the spotlight. Now Simon is actually being blackmailed: if he doesn't play wingman for class clown Martin, his sexual identity will become everyone's business. Worse, the privacy of Blue, the pen name of the boy he's been emailing, will be compromised.
With some messy dynamics emerging in his once tight-knit group of friends, and his email correspondence with Blue growing more flirtatious every day, Simon's junior year has suddenly gotten all kinds of complicated. Now, change-averse Simon has to find a way to step out of his comfort zone before he's pushed out—without alienating his friends, compromising himself, or fumbling a shot at happiness with the most confusing, adorable guy he's never met.
A refreshing new/unspoken outlook on life and well the well said "homo sapiens agenda", Simon vs. the Homo Sapiens Agenda is just perfect and thought provoking. 2015 is the year for diverse and GLBT/LGBT books and this book is one of the best examples of it. There's no awkwardness or hesitancy, it's such a REAL story. I'm not sure if it's just me or not but some glbt/lgbt just comes out forced and awkward but oh gosh Becky Albertalli (PRAISE HER) and her writing just flowed and it was so easy to connect to Simon and all the characters.
Simon is the guy I would want as my best friend (since he unfortunately doesn't bat for the same team). I loved reading his thoughts and his wonderings and his emails to Blue. They're all some stuff I've (and I'm sure some of my friends) thought about especially as a fellow teen and it was pretty awesome to just have that thought process written down on a book that can influence anyone. I loved that it also just didn't focus on Simon and coming out to his parents/friends. Of course that's there but there's this whole thing with Blue that there's an actual story line and action that moves along the story. And then there's Blue. Who Blue was was pretty unpredictable but something that was easy to accept. At the same time though, it was a bit hard for me to think of the person writing Simon the email as the same person in real life. But I think part of that was because I didn't see them as a couple more than it did. (Simon and Blue are adorable and give me all the cute feels)
This was a pretty crazy plot that worked so well. It guided the story along and who doesn't love some good 'ole blackmail? I actually got really annoyed with how the blackmail thing started and how easily Simon went along with it. It was easy to feel the need to stand up for Simon and kill Martin. *LE SIGH* But Martin begrudgingly grew on me as the story moved on so I was okay with how everything ended up. I also loved how this book handled coming out especially to friends and family and the effects that it could have. But not only dealing with that but just friendship drama. I could easily pinpoint the general emotion of the characters that Simon couldn't but probably should have. We also see a strong family relationship (which we don't normally see in YA books) and honestly this book is just great. Just go buy it and enjoy it for yourself.
It's a story about friendships and its ups and downs. It's about acceptance and loving your awesome self. It's a story about a gay guy who loves his Oreos (but then again, who doesn't?) It's a story that you should pick up and read. And it's a story that's most definitely worth it. Anyone looking for this kind of book, GO FOR IT. Happy Readings!