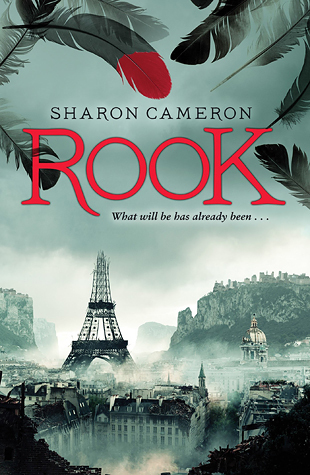 Rook by Sharon Cameron
464 Pages
Release Date: April 28th, 2015
Publisher: Scholastic
Genre: Dystopian
Source: Publisher
Rating: 3.5-4 STARS
Goodreads Summary:
History has a way of repeating itself. In the Sunken City that was once Paris, all who oppose the new revolution are being put to the blade. Except for those who disappear from their prison cells, a red-tipped rook feather left in their place. Is the mysterious Red Rook a savior of the innocent or a criminal?
Meanwhile, across the sea in the Commonwealth, Sophia Bellamy's arranged marriage to the wealthy René Hasard is the last chance to save her family from ruin. But when the search for the Red Rook comes straight to her doorstep, Sophia discovers that her fiancé is not all he seems. Which is only fair, because neither is she.
As the Red Rook grows bolder and the stakes grow higher, Sophia and René find themselves locked in a tantalizing game of cat and mouse.
Rook took me by surprise. I was expecting this whole dystopian/post apocalyptic feel but it seriously felt like I was reading a historical fiction or fantasy novel. The only indication that it was a dystopian book was its references back to the modern world. Unlike other dystopian novels, there is no scientific advancement in society. Everything's gone back to the way it used to be centuries ago. From clothing to the way they talk, it was basically like an alternative to what happened to during the French Revolution.
Weeks before I read this book I kept pondering if our society could ever revert back to a period without technology and Rook was a perfect depiction of how our excess use of technology almost ended the world and led to a society that adapted to life without it. Because it read so much like a fantasy/historical fiction, it was weird when one of the characters would bring up modern tech/brands. And because it resembled the French Revolution (with the guillotine like machine and all) and how it took place between England and France, Rook was very A Tale of Two Cities-esque.
Sophia was a great character that was easy to connect to. She loved what she was doing and was so determined to save her brother. This book is in 3rd person and focuses on various characters at different times through out the story so we get a sense of what all the characters are like. Rene was a fun character and I loved his wit and banter with Sophia. They both proved to be genuine characters that just clicked.
I really liked seeing Rene and Sophia together. There's so much mistrust at first and I liked how we see that disintegrate as they become this awesome team (with amazing chemistry). But I will have to admit there is a love triangle (but I guess it kind of isn't because Sophia makes her feelings pretty clear). I think that was a weak point because it could have been written better. I see why there was even one in the first place but the story would have been smoother if they left the romance alone.
Rook was a refreshing dystopian and I would most likely recommend this to historical fiction, fantasy, or sci-fi readers (in that order) than to dystopian readers. If you loved the French Revolution, I would urge you to check out this book. Happy Readings!