I'm happy to be part of the 2014 Debut Authors Bash and am so excited to host LIZ CZUKAS,
author of ASK AGAIN LATER and soon to release TOP TEN CLUES YOU'RE CLUELESS.
And in honor of her so to be released novel, she shares her Top 10 Favorite Quotes!
Ask Again Later by Liz Czukas
Release Date: May 11th, 2014
Publisher: HarperTeen
Goodreads Summary:
Despite what her name might suggest, Heart has zero interest in complicated romance. So when her brilliant plan to go to prom with a group of friends is disrupted by two surprise invites, Heart knows there's only one drama-free solution: flip a coin.
Heads: The jock. He might spend all night staring at his ex or throw up in the limo, but how bad can her brother's best friend really be?
Tails: The theater geek...with a secret. What could be better than a guy who shares all Heart's interests--even if he wants to share all his feelings?
Heart's simple coin flip has somehow given her the chance to live out both dates. But where her prom night ends up might be the most surprising thing of all...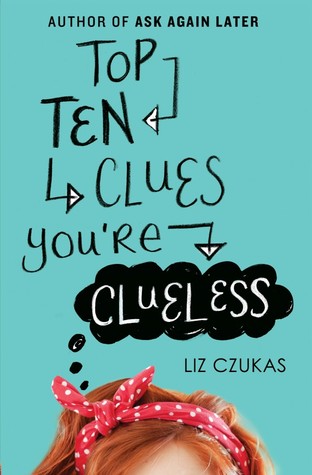 Top Ten Clues You're Clueless by Liz Czukas
Release Date: December 9th, 2014
Publisher: HarperTeen
Goodreads Summary:
Top Five Things That Are Ruining Chloe's Day
5) Working the 6:30 a.m. shift at GoodFoods Market
4) Crashing a cart into a customer's car right in front of her snarky coworker Sammi
3) Trying to rock the "drowned rat" look after being caught in a snowstorm
2) Making zero progress with her crush, Tyson (see #3)
1) Being accused—along with her fellow teenage employees—of stealing upwards of $10,000
Chloe would rather be anywhere than locked in work jail (aka the break room) with five of her coworkers . . . even if one of them is Tyson. But if they can band together to clear their names, what looks like a total disaster might just make Chloe's list of Top Ten Best Moments.
Oh my gosh, this is a dangerous topic to give to someone who has a tendency to memorize everything! I find myself quoting stuff all the time. A lot of times, it's completely non-inspiration movie quotes, like "God help us, we're in the hands of engineers," and "If someone asks if you're a god, you say yes!" Let me see if I can narrow this down...
10. "Never trust a man who, when left alone in a room with a tea cozy, doesn't try it on." - Billy Connelly
Because that's just good advice.
9. "The good thing about science is that it's true whether you believe in it or not." - Neil deGrasse Tyson
Neil is the man. I love him. And I love this quote.
8. "If you tell the truth, you don't have to remember anything." - Mark Twain
I try to live my life this way. Am I honest all the time? Of course not, but it certainly helps to keep your facts straight when you strive to be.
7. "The trouble with quotes on the Internet is that you can never know if they are genuine."
6. "I've learned that people will forget what you said, people will forget what you did, but people will never forget how you made them feel." - Maya Angelou
So true. Wil Wheaton's first rule of the Internet is a simplified and cruder version of this.
5. "Your playing small does not serve the world. There is nothing enlightened about shrinking so that other people won't feel insecure around you." - Marianne Williamson
I find this particularly helpful as a writer. Be brave. Write what you want to write. You can't worry about the critics, because there is no book in the history of the world that everyone loves. Well, maybe the Very Hungry Caterpillar.
4. "Talent is a wonderful thing, but it won't carry a quitter." - Stephen King
Mmm, I loves me some Stephen King. This quote is from his book, Duma Key. Another great one for writers--not the Mr. King would know anything about that.
3. "There are 6,775,23,842 people in the world. Why are you letting one of them ruin your life?"
Hmm, I think I may have a theme here. It's all about brushing the dirt off your shoulders and carrying on.
2. "There's power in looking silly and not caring that you do." - Amy Poehler
Sometimes carrying on must be done with a ridiculous hat, or by singing The Love Boat theme song over the P.A. in an airport (I have done both of these things.)
1. "It is our choices that show what we truly are, far more than our abilities." - JK Rowling
All hail Lady Rowling! I swear, the entire Harry Potter series is full of splendid quotes for living. Most of them come from Dumbledore. That's one wise wizard.
What are some of your favorite quotes?
Now those are some awesome quote choices! Very uplifting especially if you seem down :)
And of course....