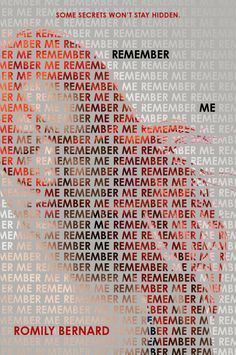 Remember Me by Romily Bernard
355 Pages
Release Date: Sept. 23rd, 2014
Publisher: Harper Teen
Genre: Thriller/Mystery/Contemporary
Source: Publisher via Edelweiss
Rating: 4.5 STARS
Goodreads Summary:
In the sequel to Find Me, Wick Tate, sarcastic teen hacker, is back and once again dealing with criminals and corrupt cops…and a brooding new love interest. Will Wick persevere when some secrets refuse to stay hidden?
Wick had thought her troubles were over.
But she should've known better.
Not only is she embroiled in a new murder case, which starts with a body with "Remember Me" carved into it and doesn't stop there, but she also discovers new evidence surrounding her mother's suicide…which leads her right back to her imprisoned deadbeat dad. And she has to deal with her flirty new hacker friend, Milo, sniffing around—which her boyfriend, Griff, isn't too happy about.
The pressure might be too much as secrets—including Wick's own—climb to the surface.
Remember Me is an edge-of-your-seat thrilling read that'll have readers turning the pages at lightning speed! The paperback of Find Me is on sale simultaneously, and a digital original novella from Romily, featuring Griff, is on sale just a few weeks before!
MY THOUGHTS:
Whoa! I wasn't expecting to love Remember Me as much as I did! It was a great follow up to FIND ME and I loved the direction it goes. We see as Wick has to deal with her family problems, boyfriend problems, and normal murder case problems. I will admit that the mystery and case itself was pretty predictable, it was interesting to see how it all unfolded. I also really loved how her mom's suicide reemerged and the full story behind that and how that hit Wick on a personal level.
While the plot and the murder case were obviously important, I feel that there was a big emphasis on the change and transition Wick went through especially after the Todd incident. People were terrible to her at school and as all the lies started to mount up, she strained her relationship with Bren, her sister, and Griff. And I hate how she had to lie and how much she knew that her family couldn't understand what was happening and why. It just sucked that she was blackmailed and couldn't get herself out of it and that some of her actions got her into trouble. She just didn't have someone she could lean on but she held herself strong and knew she was doing the right thing. And that's what makes me love Wick and her sarcasm and her awesome hacking skills.
There actually wasn't as much Griff as I expected. He was there in the beginning and then as their relationship became strained due to Wick's partnering with Detective Carson (terrible and ambitious person), he gradually became less apart of Wick's life. He obviously still has feelings for her and it was really funny and cute seeing him getting jealous over Milo XD But it was sad seeing the lack of understanding from his point of view on Wick's situation even though his feelings did make sense. *sigh*
And then there was two...Milo is awesome. I love that his character was introduced in this book and how he was able to really help Wick. I wouldn't say I shipped them as a couple per se but he is undoubtedly a person Wick can easily connect to. Both being hackers, they bonded over their techy stuff. His wit matched with her snark and they got along perfectly well. I kinda loved how he involved himself into Wick's life and case and knew that he could be helpful to her.
AND THAT END GUYS. THE CHILLS. So. Many. Chills. Can't wait for Trust Me!! Fast paced and thrilling, Remember Me is not to be missed. Definitely recommended for fans on Find Me and anyone else who loves mystery/thriller contemporary novels. Happy Readings!!