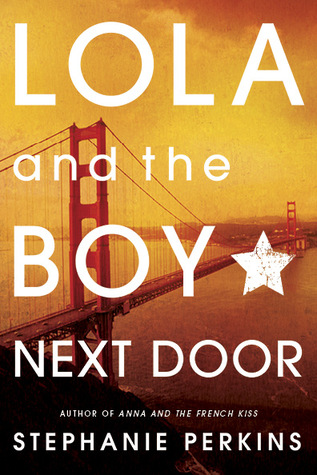 Lola and the Boy Next Door by Stephanie Perkins
338 Pages
Release Date: September 29th, 2014
Publisher: Dutton Books
Genre: Contemporary
Rating: 4 STARS
Goodreads Summary:
Budding designer Lola Nolan doesn't believe in fashion...she believes in costume. The more expressive the outfit--more sparkly, more fun, more wild--the better. But even though Lola's style is outrageous, she's a devoted daughter and friend with some big plans for the future. And everything is pretty perfect (right down to her hot rocker boyfriend) until the dreaded Bell twins, Calliope and Cricket, return to the neighborhood.
When Cricket--a gifted inventor--steps out from his twin sister's shadow and back into Lola's life, she must finally reconcile a lifetime of feelings for the boy next door.
Soooo I originally read this 3 years ago when it first came out but I was honestly disappointed with it for some reason. But after reading ISLA and rereading ANNA (for the hundredth time), I decided it was time for me to reread LOLA. And I really don't get why I didn't like it as much as I do now than I did before :o I know I was for iffy about it once I did initially read it but I guess rereading it gave me a different experience or point of view on the book.
Anyways, I lovelovelovelove the unique and distinct character traits in the story. Starting with her dads, it was awesome reading a story about a girl with two dads and her relationship with them. This is the only story I've read that has even dealt with the idea of parenthood as such. Plus Andy and Nathan were the bond. They balanced each other perfectly (as a couple and as parents). Lola is quite extravagant with her enthusiasm and earnest passion for costume. While I don't exactly relate to her idea pf and reason for costume, I do understand her and I love how that made her stood out as a character but also showed how normal she was despite that fact.
And then there are the twins...Calliope is a character I would have liked to have seen more of. She might not have been one of the main characters, but she did influence and affect a great deal of the plot. I also liked seeing the sibling relationship bond between her and Cricket and how that had a great impact on Cricket's life. As for Cricket...well he's St. Clair but he is pretty awesome and so adorable. It's so easy to imagine his way too tall skinny self being shy and sheepish. Just. So. Cute. I really really really loved that Cricket and Lola and history before that gave a backdrop for their relationship. It honestly felt like they were just picking up from where they left off. While sometimes that did create problems, it showed how true their feelings were for each other. Plus Cricket's fashion sense totally matched Lola.
What I wasn't expecting was how much St. Clair and Anna were parts of the story. I expected cameos but they had a decent amount of appearances (no complaints from me of course). I kind of love how we got to see Anna and St. Clair continue on with their lives. They were great friends who gave Cricket and Lola meaningful advice.
Written with a great flow and lightness to the story, Lola and the Boy Next Door is a fun read. It's perfect for those who loved Anna and the French Kiss or a reader in need of a refreshing contemporary novel. Happy Readings!!