Whoa! It's been a long while since Caitlyn and I have done this. I wasn't exactly sure if we should continue doing this but we decided we would just do it if we had time or at least once a month. Anyway for any new readers, The Thing About Books is a book discussion feature where Caitlyn and I just discuss/fangirl over books. This week we talked about STORM SIREN by Mary Weber!
BUT THERE ARE SPOILERS FROM THE BOOK. Please please please note this! Don't read this until you've read the book and want to know our thoughts on the book!!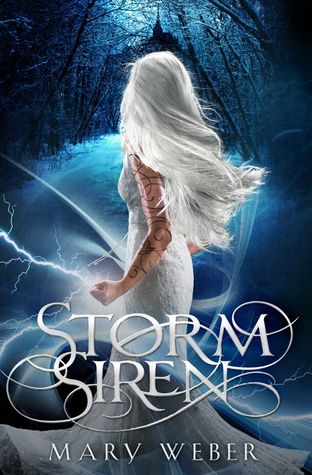 Storm Siren by Mary Weber
Release Date: August 19th, 2014
Publisher: Thomas Nelson / HarperCollins

Goodreads Summary:
"I raise my chin as the buyers stare. Yes. Look. You don't want me. Because, eventually, accidentally, I will destroy you."
In a world at war, a slave girl's lethal curse could become one kingdom's weapon of salvation. If the curse—and the girl—can be controlled.
As a slave in the war-weary kingdom of Faelen, seventeen-year-old Nym isn't merely devoid of rights, her Elemental kind are only born male and always killed at birth — meaning, she shouldn't even exist.
Standing on the auction block beneath smoke-drenched mountains, Nym faces her fifteenth sell. But when her hood is removed and her storm-summoning killing curse revealed, Nym is snatched up by a court advisor and given a choice: be trained as the weapon Faelen needs to win the war, or be killed.
Choosing the former, Nym is unleashed into a world of politics, bizarre parties, and rumors of an evil more sinister than she's being prepared to fight . . . not to mention the handsome trainer whose dark secrets lie behind a mysterious ability to calm every lightning strike she summons.
But what if she doesn't want to be the weapon they've all been waiting for?
Set in a beautifully eclectic world of suspicion, super abilities, and monsters, Storm Siren is a story of power. And whoever controls that power will win
Caitlyn Crowe
We haven't done this in a while but I think Storm Siren is a great book to start with!
It is! I really liked that it was ish different from all the other fantasy books with her training in secret from the palace
Does that make sense?
Yeah, usually in YA she'd be put to training in the palace not a secret military training on some bitchy ladies' estate
HA basically. Her ability is pretty awesome too
OMG YES they are like the best frickin powers
It was great seeing her learn to be able to control her powers and I love that she has her limits and honestly feels the guilt for anything she's caused
It's weird but I love how broken she is and how she really thinks she's a monster.
Same, it really built her personality. Plus it was funny seeing how Eogan's touch could calm her down :P
yeeeeeeeeessss and how the bitchy terrible owner lady was super gross and jealous about it
*snickers* Righttttt?! But I would never want to be Nym. So much stress and emotions that I could
never deal with
But she's so badass too. She has all these emotional problems but she still goes on despite that. It's really amazing.
It really is. She's handled being a slave as best as she could with her past 15 owners. She has soe wounds but she heals and recovers as best as she could
I love her tributes. I mean its terrible that its self mutilation but I think its amazing
I would have preferred her to do something else but I do get why she did it and I feel for her.
I love her confrontation with Eogan after she does it for the little slave girl. How he was so mad at her for mutilating herself but then she gets mad back at him and points out its exactly what he did it was so...powerful
Speaking of Eogan....did you think he was the twin brother/prince?
I suspected towards the end of the middle but at first I didn't. At all. I think its super awesome though. Like it just adds so much to the story. And made it suuuuuuuper interesting
It diddddd! I didn't really think he would be the twin but I figured he had a story dealing with that.
AND WAIT AT THE END, HE DIED RIGHT?!
OMG I DONT KNOW AAHHHHGGGG ITS SO AMBIGUOUS BUT IM PRETTY SURE HE ISNT TOTALLY DEAD BUT THAT THE LONG EVIL WOLF GUY IS INSIDE HIM THE MORE DEAD HE WILL BECOME
I ASSUMED HE WAS. BUT ITS A YA BOOK AND USUALLY THAT ENTAILS SOME EVIL THING HAPPENING TO HIS BODY
SEE SO I HAVE TWO THEORIES. EITHER HE'S STILL IN THERE AND THE WHOLE NEXT BOOK WILL BE GETTING HIM BACK OR SHE'S GONNA GET CLOSER TO PRINCE GUY (AND THEN EOGAN MAAAAAAAY COME BACK)
I kinda really like the prince...I originally thought he was the main guy character but I learnt otherwise. And isn't he with Rasha?
Rasha reminds me of Nehemia from Throne of Glass
I thought so too but I forget who Rasha is and I'm pretty sure I don't like her
She wasn't all the mentioned in this book but as of now, she's helped Nym sooo she's in my good
books
No, I don't think she's with the prince...but yeah, I do like her
And I reaaaaaaaaally liked Colin
Ok didn't his sister like betray them?
and I really did NOT like her
Well no...I thought that Draewult took over her body and she died that way so that's why "she" betrayed them
right, right. I remember that. But I still didn't like her, even from the start. I just felt like she should have been nicer to Nym
That I agree with. But at the same time, I feel like I'm too used to soft, sweet girls (sometimes deceptive but still) as maids/servants so if anything it was a nice change to see a bit of variation
I like that she was snarky and strong but I don't think she had to be such a hateful person. I really would have liked it better if she had been basically who she is just not as mean and terrible to Nym who honestly doesn't need more shit in her life
I think she probably would have been like that if the Draewulf didn't take over
But he didn't take her over till after she'd met Nym. I'm pretty sure it was after they went into town without Eogan's permission.
I know but still. Its still a decent amount of time to actually befriend Nym. She didn't seem ALL bad so if they had more time together I think that she could have been a friend to her
Mmm. But Colin was the coolest.
Yesssss agreed. He definitely added to the humor and lightness to the story :D
I loved their relationship. How he'd flirt with her and stuff.
Yeah :) It was awesome seeing Eogan jealous
HHHAAAA <33333 YEEEEESSSS YES I just love Eogan. He can't be dead.
Hope. All we need is hope
I mean...HE WAS JUST WARMING UP TO HER AND AMAZINGNESS WAS HAPPENING
*sigh* But no he just had to be taken over and ugh alas this how books are and what makes me love themmmmm
I knooooooow but I also hope in the next book that we get to know the prince better (or wait, isn't he the king?)
Prince, king...same difference. And I would really like even if he just remains as friends with her
Yeah, I think he's really cool and I think he'll want to keep her close because her powers are SO cool
I also would like to know more about the world than what was given bc there wasn't as much details about it as I would have liked
Yeah, and I wanted more on her backstory. Like how she managed to be still alive for so long.
*nods* She vaguely went over her past and having more info would have been nice
And like the nature of her power and how she got them. Like why and how they manifest in certain people.
I feel like they ish went over that but I'm not entirely sure...
Not really, it was just kinda like...she got them just because
But like you know the story with the Elementals and such
It had like the reason they were killed but not why they got their powers
I thought it developed/were created in order to help win the previous battle
....maybe I missed a part...
Meh I'M NOT SURE THOUGH. So don't take my word for it, its just what I thought
Well then...we clearly know this book
...obviously....
lol I VOTE 4.6 STARS
4 STARS for meeeeee :)