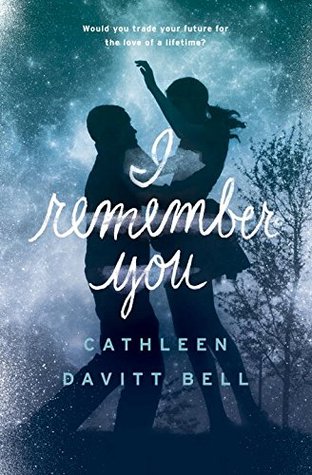 I Remember You
by Cathleen Davitt Bell
Publisher: Knopf Books for Young Readers
Release Date: February 10th 2015
Synopsis:
For fans of THE FUTURE OF US comes an engrossing story of two teens, whose love for each other is tested by time and fate.
Lucas and Juliet couldn't be more different from each other. But from the moment Lucas sees Juliet, he swears he remembers their first kiss. Their first dance. Their first fight. He even knows what's going to happen between them—not because he can predict the future, but because he claims to have already lived it.
Juliet doesn't know whether to be afraid for herself or for Lucas. As Lucas's memories occur more frequently, they also grow more ominous. All Juliet wants is to keep Lucas safe with her. But how do you hold on to someone you love in the present when they've begun slipping away from you in the future?
Goodreads |
Amazon paperback |
Barnes & Noble | Book Depository | iTunes | Kobo
1. Describe I REMEMBER YOU in less than 10 words.
My boyfriend remembers the future. And me. And dying. Whoah.
2. Is there anything you would want to know about the future?
Remember those cootie-catcher fortune teller origami things? I already know the answers to every question they supposedly answered. I live not in a mansion, shack, or house, but an apartment. I know how many children I have, the city where I live, and the name of the person I am married to.
The suspense in my life comes from wondering what my children will become. I think that's the exciting part of being a teenager or a kid: you're in the process of becoming someone, and even if the idea of that becomes a lot less definite once you realize you never really feel grown up, it's still an exciting adventure to embark on.
To me writing is like psychic channeling. Which feels normal to me, but now that I write it down does seem a little quirky. But still: Until I hear a voice I want to write a story in, I cannot tell that story. When I do hear it, I can close my eyes and connect to the energy of that voice, as if it belongs to someone who is not me.
4. Was I REMEMBER YOU your first title choice?
Yes. It came to me whole, much like this entire book. I never had a working title and when I came across this phrase while writing, I knew it was "the one." I've never had that happen before; either someone else came up with a great title, or I learned to live with one that I wasn't ever sure of.
5. If someone were to see you in a random public place where would it be and why?
Walking on a sidewalk in Brooklyn. I get around almost always on foot, and love the time this gives me to think or talk to whomever I'm walking with. I'd probably be wearing an embarrassing hat and walking too quickly--I grew up as a short person in a tall family, which means I learned to adjust my stride early on.
Any phobias?
Yes. I have a fear of holes. It's called trypophobia. Thinking about it now I am literally feeling shivers. Ugh.
Batman or Superman? Well, Superman was my first love. He's so good and kind. But then Batman has the car, the voice, the suit…You get the feeling he'd just be a whole lot more fun. In a nihilistic, terrifying, emo kind of way.
Favorite t.v show/movie?
I cannot pick one. Clueless. Bring it On. Adam's Rib. BBC's Pride & Prejudice. Gosford Park. The Wire. Six Feet Under. The Americans.
Celebrity crush?
I like to watch strong, smart women actors on screen. I'm a big fan of Laura Linney, Clare Danes, Meryl Streep, Jennifer Lawrence.
Favorite literary couple?
Jane Eyre and Rochester.
I was born in Princeton, NJ in 1971 and lived there until I was twelve, when we moved with my mom moved to West Hartford, CT.
My dad and mom had been divorced when I was two, and my dad lived in Williamstown, MA. I spent summers and school vacations with him.
I went to college in New York, at Barnard, and stayed in New York after I graduated. I worked as a newspaper reporter for three months, as a salesperson for a multimedia publisher for three years, and as a market researcher, and finally a copywriter.
I'm married and have two awesome kids ages two and five. I lived in Manhattan for sixteen years, but now am in Brooklyn, living downstairs from my sister and her family. I have two dogs named Oscar and Oprah. My favorite food is pizza and, strangely, in my thirties, I've developed a great love for playing catch. Slipping is my first book.
Details: Win (1) of (10) finished copies of I Remember You by Cathleen Davitt Bell (US Only)