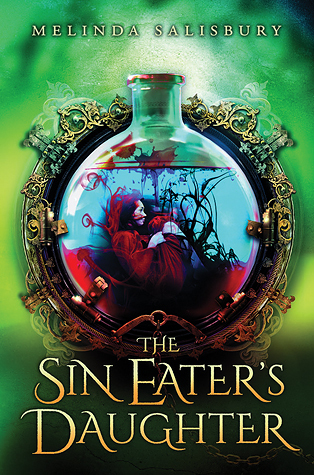 The Sin Eater's Daughter by Melinda Salisbury
320 Pages
Release Date: February 24th, 2015
Publisher: Scholastic
Source: Publisher
Genre: Fantasy
Rating: 4 STARS
Goodreads Summary:
Seventeen-year-old Twylla lives in the castle. But although she's engaged to the prince, Twylla isn't exactly a member of the court.
She's the executioner.
As the Goddess embodied, Twylla instantly kills anyone she touches. Each month she's taken to the prison and forced to lay her hands on those accused of treason. No one will ever love a girl with murder in her veins. Even the prince, whose royal blood supposedly makes him immune to Twylla's fatal touch, avoids her company.
But then a new guard arrives, a boy whose easy smile belies his deadly swordsmanship. And unlike the others, he's able to look past Twylla's executioner robes and see the girl, not the Goddess. Yet Twylla's been promised to the prince, and knows what happens to people who cross the queen.
However, a treasonous secret is the least of Twylla's problems. The queen has a plan to destroy her enemies, a plan that requires a stomach-churning, unthinkable sacrifice. Will Twylla do what it takes to protect her kingdom? Or will she abandon her duty in favor of a doomed love?
SO. MANY. MIXED. FEELINGS. When I first saw the book, I instantly wanted to read it and oh god there was so much hype on Twitter over it. I will say that I REALLY REALLY liked where the book went at the end. So many twists and everything just happened, it was beautiful. The ending was absolutely perfect. It wasn't quite a cliffhanger but it sets up the story for the next book (I'm assuming there's going to be a sequel because if there isn't I'm going to have problems). But at the same time there were parts I felt meh about or got irritated by (especially in the beginning/middle). I totally understand where she went with the book and how it all worked out but it was still easy to dislike parts of it. I also would really love to learn more about the world and see more of the kingdom outside of the castle.
Part of my irritation and mixed feelings came from Twylla. She was naive and I get that it was part of her character but it was so easy to get annoyed with her. It's honestly not her fault because I get how her environment shaped her to be that way (to an extent). I just wished that she had a But then came the twists and the climax/the end of the story AND THE NEXT BOOK IS GOING TO BE AMAAAAZING AND I'M SO EXCITEDDDD! I did like how loyal she was (although I guess that's a good and bad thing) and I also loved the way we saw her executions.
I can't say much romance wise about the book since there are too many spoilers. I will say that it wasn't a high point for me. I felt really meh about that aspect and honestly didn't care much for it. I kind of didn't like either of the guys. The summary makes it seem like there's a love triangle in this book but it's only there because she's betrothed to the prince. But the romance isn't heavily emphasized between them. Also the politics ruled this book. It may be hard to notice at times but that was the main framework for this story.
The overall plot was brilliant and while I did have some problems with how some parts were executed, I would definitely recommend this to fantasy readers. If you're hesitant or feeling meh about it, I say to just push through it because it's worth it in the end. I'm excited to read more of Melinda Salisbury's upcoming novels and the rest of the books in this series! Happy Readings!
P.S ISN'T THAT COVER JUST GORGEOUS?! *pets cover* I can never get tired of looking at it