1. We Are Never Getting Back Together
A book (or book series) that you were pretty sure you were in love with, but then wanted to break up with..
Taherah: The Mortal Instrument Series by Cassandra Clare
Loved the first 3 books and then pretty much got tired of the rest of the series.
Caitlyn: The House of Night Series by P.C Cast & Kristen Cast
Loved the first one but as the series went on it got more and more ridiculous plus she had the same problems every book.


2. Red
A book with a red cover...
Taherah: Sweet Evil by Wendy Higgins
I know it's not totally red but Anna's dress is red and lust has a read aura so it fits in :D
Caitlyn: Fire by Kristin Cashore
It's literally all red XD
3. The Best Day
A book that makes you feel nostalgic...
Taherah: The Mediator series by Meg Cabot.
Oh god it's been so long since I first read this series and it was one of my first paranormal series I read. SO MANY MEMORIES!
Caitlyn: Harry Potter by J.K Rowling
Do I really have to explain this one?
4. Love Story
A book with forbidden love...
Taherah: Bloodlines Series by Richelle Mead
SYDRIAN GUYS SYDRIAN!! A vampire and an alchemist? A big no no!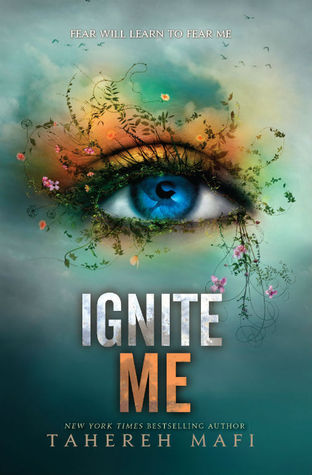 Caitlyn: Half Blood by Jennifer L. Armentrout
A half/Apollyon with a Pure? People were put on the Elixir for less!
5. I Knew You Were Trouble
A book with a bad character you couldn't help but love...
Taherah & Caitlyn: Shatter Me series by Tahereh Mafi
WARNEEEEEEEEERR. He stole our hearts and melted them into a puddle of feels.
6. Innocent
A book that someone ruined the ending for...
Taherah: Allegiant by Veronica Roth
Technically speaking I asked Caitlyn to tell me what happened because I was too curious and knew I was never going to read it to begin with so...it counts.
Caitlyn: The Fiery Heart by Richelle Mead
Taherah. That little shit, I let her read my copy first because she loves Adrian more than I do and then she spoiled it for me.
7. Everything Has Changed
A book with a character who goes through extensive character development...
Taherah: Shatter Me Series by Tahereh Mafi
Juliette had a huge and drastic change from books 1-3.
Caitlyn: Throne of Glass series by Sarah J. Maas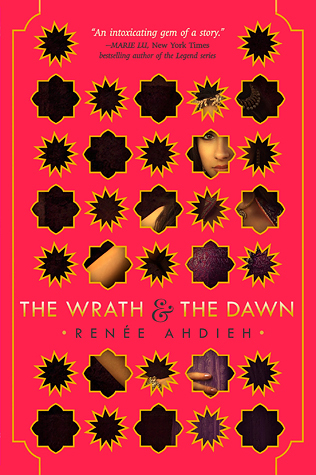 Celeana just changes constantly from book to book, honestly.
8. You Belong With Me
The most anticipated 2015 book release...
Taherah & Caitlyn: THE WRATH AND THE DAWN by Renee Ahdieh.
THIS BOOK LOOKS AMAAAAAZING AND ITS A THOUSAND AND ONE NIGHTS RETELLING. EMERGERD WE WANT IT!!
9. Come Back, Be Here
A book you would be least likely to lend out...
Taherah: All signed copies (to anyone except Caitlyn)
Caitlyn: All signed copies (to anyone except Taherah)
10. Teardrops On My Guitar
A book that made you cry a lot...
Taherah: The Queen of Zombie Hearts by Gena Showalter
Ok so I honestly cry when reading a lot of books but I couldn't handle what happens at the end of this one.
Caitlyn: The Probability of Love at First Sight by Jennifer E. Graham
I don't know what it is about this book but it just guts me every time.
11. Blank Space
Favorite autographed book...
Taherah & Caitlyn: Unravel Me by Tahereh Mafi
It's not only signed but also has defaced cover by the lovely Tahereh Mafi so that makes it the top fave.
12. Today Was A Fairytale
Favorite retelling...
Taherah & Caitlyn: A Court of Thorns and Roses by Sarah J. Maas
A Beauty and the Beast retelling with swoon worthy characters and faeries!!
13. Style
A book you've reread the most...
Taherah: Anna and the French Kiss by Stephanie Perkins
I love this book so much and can literally reread it anytime. It's my go to book when I'm in a book slump.
Caitlyn: Crown Duel by Sherwood Smith
This book was like the beginning of the end for me of when I was normal and didn't read nearly as much as I do.
14. I Wish You Would
The book/series that you love so much that you never want it to end...
Taherah: Gallager Girls series by Ally Carter
One of my favorite series with an amazing plot and great cast of characters that I would never get tired over.
Caitlyn: The Darkest Minds series by Alexandra Bracken
This series...I don't even know what it is about it but my heart just aches for it and I want it to keep going and going and never end. Just the gang on a road trip forever.
The book/series where you laughed, cried, and screamed at AKA the one with all the feels...
Taherah: The Vampire Academy series by Richelle Mead
This entire series was a roller coaster ride :o
Caitlyn: The Arcana Chronicles by Kresley Cole
I kinda force myself to not remember this series exists so I don't descend into a spiral of book depression.
16. The Story of Us
A book/series you loved
but then killed you because it became bad and all you want is for it to be back to what it was like before...
Taherah & Caitlyn: Lux series by Jennjfer L. Armentrout