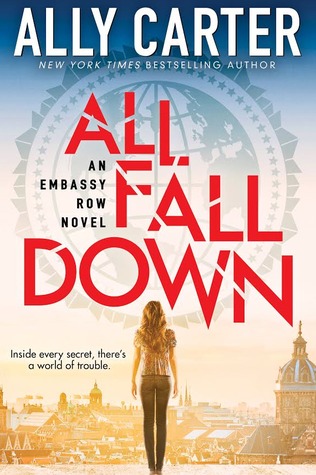 All Fall Down by Ally Carter
320 Pages
Release Date: January 27th, 2015
Publisher: Scholastic
Genre: Mystery/Contemporary
Source: Publisher
Rating: 3.5-4 STARS
Goodreads Summary:
Grace can best be described as a daredevil, an Army brat, and a rebel. She is also the only granddaughter of perhaps the most powerful ambassador in the world and Grace has spent every summer of her childhood running across the roofs of Embassy Row.
Now, at age sixteen, she's come back to stay - in order to solve the mystery of her mother's death. In the process, she uncovers an international conspiracy of unsettling proportions, and must choose her friends and watch her foes carefully if she and the world are to be saved.
Having read and loved all of her previous books, I had no doubt that her new series would be awesome. I loved the setting (Embassy Row) and seeing how all the embassies were divided by country. I wasn't really sure what to expect with Grace living in Embassy Row. It turned out differently than I expected but worked a lot better the way it was. There was a lot of emphasis on the mystery as expected but it wasn't that big of a surprise. There was a lot of hints and you can get the feel for what happened to Grace's mom. I had mixed feelings for the story as whole writing wise especially because I felt like it could have been a subplot in a book :/
I felt like this book was just setting up and building Grace's character for the rest of the series. It was easy to feel bad for Grace but also understand why many people didn't exactly trust her. She's just a girl who's very determined to find out what happened to her mom. And with the way everyone acted around her and with just so many secrets, it was easy to get as frustrated as Grace and with her.
There's just a hint of romance. There actually wasn't as much of Sergei as I initially thought there would be, which I'm kind of happy about. I'm probably the only one who doesn't like him as much as others. I mean he's fine as a person but hard to go "YEAH SERGEI I LOVE YOU". But I did feel that way for another certain character: Noah. Ok so I have no idea if he's supposed to just be the best friend or become a love interest but I would LOVE for him to become with, even if it's gradual. He's just funny and always there for Grace. (But I'm good as long as he remains in the story)
With the way it ended, I have high hopes for this series will go! If you're a fan of Ally Carter's or any of her books, All Fall Down is the book for you! And while I was a bit disappointed with some parts of it, I think it'll get better as the series go. Happy Readings!