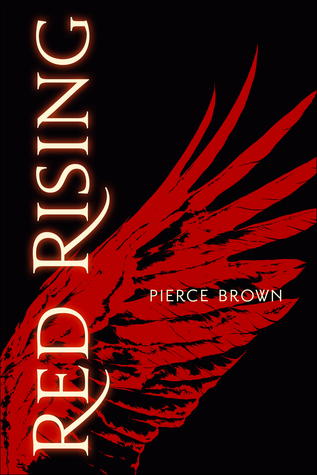 Red Rising by Pierce Brown
382 Pages
Release Date: January 28th, 2014
Publisher: Del Rey (Random House)
Genre: Sci-fi/Dystopian
Rating: 4-4.5 STARS
Goodreads Summary:
The Earth is dying. Darrow is a Red, a miner in the interior of Mars. His mission is to extract enough precious elements to one day tame the surface of the planet and allow humans to live on it. The Reds are humanity's last hope.
Or so it appears, until the day Darrow discovers it's all a lie. That Mars has been habitable - and inhabited - for generations, by a class of people calling themselves the Golds. A class of people who look down on Darrow and his fellows as slave labour, to be exploited and worked to death without a second thought.
Until the day that Darrow, with the help of a mysterious group of rebels, disguises himself as a Gold and infiltrates their command school, intent on taking down his oppressors from the inside. But the command school is a battlefield - and Darrow isn't the only student with an agenda.
MY THOUGHTS:
This book caught me by surprise. Everything was just so different from what I expected but it was so much more awesome than my not so creative brain. I loved the world building and seeing how the sci-fi elements, the dystopian feel, references to Greek Mythology, and fantasy like world all created a society ruled by a hierarchy of colors. And I honestly have no clue how to write this review because I feel like anything not mentioned in the summary would be a spoiler especially plot wise. So sorry if I continue to be a bit vague with some of the stuff. Adding on to the world, you can see such a contrast to Darrow's and he Gold's world. Both their mentality and looks wise. Writing wise, I will admit that there were times I felt like the pace was a bit slow and that there was some events that didn't really need to be added but the pace story wise and the length of how long the story took place was perfect. It was a lot longer than I expected but it worked out and really helped to show character development in just one book.
Darrow...oh Darrow! I loved his character ever since seeing him in the mines and seeing how much he loves Eo! And when tragedy strikes it hurt. I loved that he continued to use it as a motivation and stayed with the idea of a rebellion through out the entire book. While he may have changed, he never forgot or could forget what brought him there in the first place. Through out his time at the Academy, he definitely showed his leadership skills and was an easy character to support. And trust me, he went through a lot in this story ._.
There were several characters in this story but the ones that stood out the most (some to watch out for and others that were pretty awesome:
Sevro-I never once doubted him and I loved seeing his relationship/friendship with Darrow build.
Cassius-mixed feelings and kind of indifferent about him.
The Jackal-creepy and spoiled boy (shouldn't expect anything less)
Mustang (I forget what her real name is)-So awesome but I'm conflicted with her role in the story to come...

All in all, Red Rising was full of action and politics taken to another level. With such great world building and just hints of romance (barely any which I'm grateful for because otherwise it probably would have changed the affect it had), this book is definitely for sci-fi/dystopian/fantasy lovers combined! And one I can for sure say boys will be into (especially with a male MC) or anyone who wants a riveting and mind blowing read :D Happy Readings!!